6:15 am: It's on
The sun has just risen over the quiet, dense streets of Mumbai. Early mornings in Mumbai are typically quiet but today (April 24) is especially so—Election Day is a holiday and the usual commutes are abandoned in favor of voting near home.
Roughly 21 million people live in Mumbai and its suburbs, one of the world's most densely populated areas.
In Fort, an area in the south of the city, wide streets and British architecture are home to some of the most expensive floor space in Asia. Hidden off one of these main wide roads is a small lane called Modi Street, at the end of which is the school that serves as polling station. While the name of the street has no relation to the politician, the coincidence is alluring.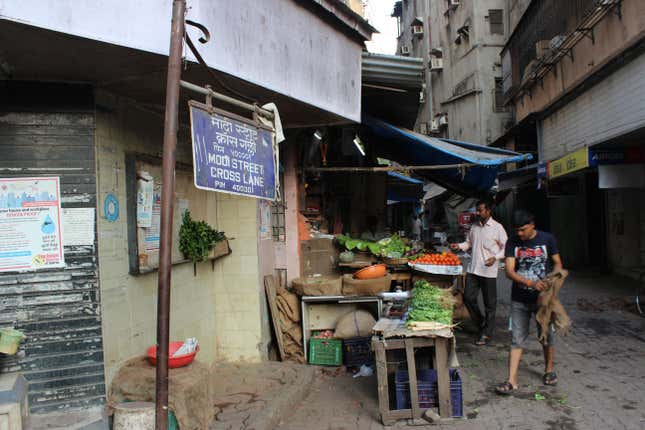 In the hour leading up the polls opening, mock voting is done to test the electronic voting machines (EVMs). At 6:50, the station is ready to go. When it opens at 7, no one is waiting to vote. At 7:45, only four people have cast their vote and they declined to be interviewed. The start to election day is lethargic.
8:35 am: The voters
Mohit Sethi, 30, and his wife, Noopur Sethi, 26, with their five-month-old daughter arrive at their polling station just before 9. The apartment where they live in Marine Drive, bought for cheap in the 1970s by Mohit Sethi's family is now worth 6-7 crore rupees (around $1 million). But the Sethis are no millionaires. He manages the Traveller's Inn, a backpacker's hostel in South Mumbai that rents beds for as little as $12 per night. For him, the biggest issue in the election is price increases.
"Food prices have gone up but salaries have not changed. I went to Ahmedabad myself on a road trip, I saw the roads—I could feel that everything there was beautiful. The work that Modi has done in Gujarat is superb."
This is a common theme: prices have soared across India in the last five years.
At the polling station, Mohit Sethi enters by himself—his wife is refused entry. She moved from Delhi after her marriage in 2013 and her voting paperwork is still being processed. She had heard on the radio and received texts that a certain "Form 7" along with two forms of identification would permit someone not on the list to vote, but both she and another aspiring voter with Form 7 in hand are denied at the polls.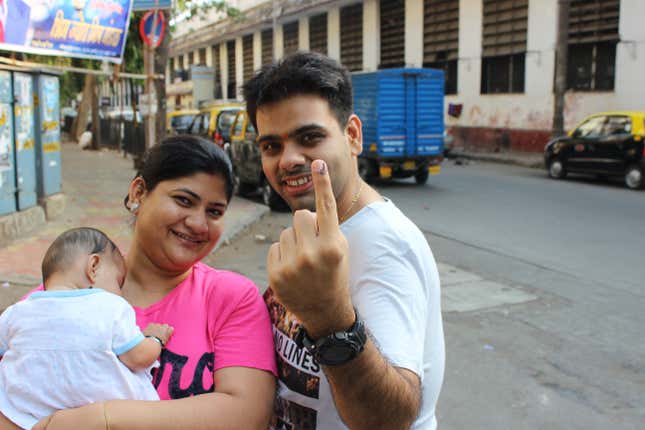 In several districts around Maharashtra, the BJP has declined to field a candidate for the parliamentary elections, instead opting to back its ally in the Shiv Sena party, which is Maharashtra-based.
This creates confusion for people like Mohit Sethi who comes out and reports a snafu: He couldn't figure out how to vote for Modi's party, the Bharatiya Janata Party (BJP), which uses the symbol of a flower. "I could not find the flower  so I voted Congress. Oh well," he says.
It is only while walking back to his flat that he realizes he should have voted Shiv Sena if he wanted Modi, even if he does not support the right-wing politics of the Shiv Sena, a party started in 1966 by a man named Bal Thackeray. Though he passed away in 2012, his face, characteristically obscured by large sunglasses, can still be seen on political posters across Maharashtra.
While the details of the national party alliances did not guide Sethi's vote in Modi's direction, he is excited to have participated. "I'm okay with it. I'm happy with my vote," he concludes.
9:47 am: The logistics
Inside the Old Customs House is a woman named Maia Patole, the deputy district election officer for Mumbai City. Both the chief election officer and the Mumbai police pointed to Patole as the person who'd give permission to observe the election.
In Patole's office, the TV is tuned to the news and she is seated calmly at her desk. The leadership in the room—all women—are sitting around Patole's desk taking phone calls. Among them is Dr. Sanjeevani Palkar, deputy executive health officer for the Brihanmumbai Municipal Corporation, the governing body of Mumbai. She has organized the field medical stations—one in each of Mumbai's 10 districts—as well as arranged for five major hospitals to have an ambulance on call with officers standing by.
"We expect mostly heat exhaustion. Many people going to vote are day laborers and work very hard, so there may be issues of dehydration. Maybe also hypertension or diabetes," she says.
While Palkar is explaining the medical considerations, which also include accommodations for the disabled at each station, Patole opens up YouTube on her computer to see live streaming footage from several "critical" or "sensitive" polling stations in the city.
The areas subject to video surveillance have been selected according to a few factors. "Primarily, it is the ratio of registered voters who do not have election photo identity cards, as well as high number of voters who do not have a family name in their registration or were missing from their residence when we surveyed," Patole explains.
10:35 am: The forgotten
Walking through the streets of Mumbai, evidence of the election is everywhere. Registration tables for several polling stations are set up right on the street. White lines are painted on the cement demarcating the 100 m line that political parties may not cross. The street-level grittiness of the elections is combined with an impressive level of organization.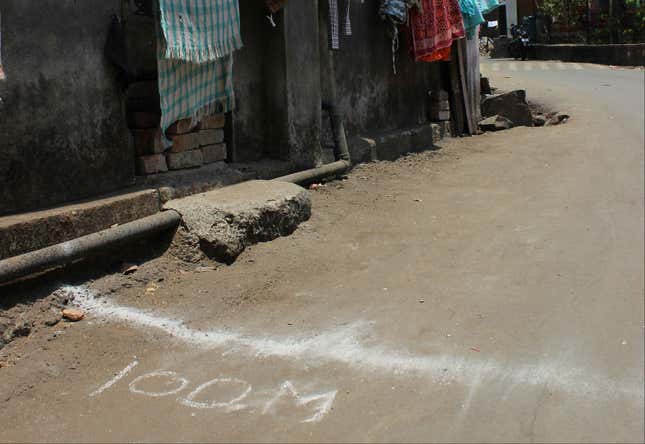 Thane is a district and city to the northeast of Mumbai City. The city of Thane, part of the larger Mumbai Metropolitan Area, shares Salsette Island with Mumbai and helps the island to its second place standing (behind Java in Indonesia) on the list of "most populous islands in the world." The large Sanjay Gandhi National Park covers the north-central part of Salsette Island and its lakes form a critical piece of Mumbai's water supply. Inside the eastern side of the park is Yeoor Village and the most isolated polling booth in this otherwise congested metropolis.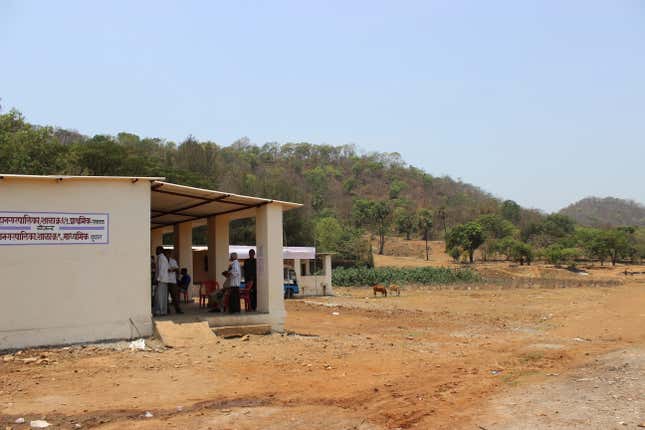 Here, prices are again the common complaint but there is something more fundamental that this constituency wants: electricity. Ramji Chaityachaudary, who has lived in another village near Yeoor since he was born in 1934, explains: "We have no roads and no electricity—only kerosene lights. Water came last year when they built a pipeline."
The village Chaityachaudary lives in is semi-legal, meaning part of it is in the adjacent forest, which is restricted from habitation. He works as a farmer and does not feel that any candidates represent his interests.
"I've never seen a politician visit us. There are creek beds all over here and the government should build bridges for us but they don't." Yet, he says, "I vote because I believe in India. I hope that one day the government will fix the problems in my village and fulfill its promises."
12:35 pm: Get the voters
Out of the forest and back in Thane, the endless concrete makes the heat unbearable. Reprieve from the heat comes inside a Shiv Sena organizing headquarters near a polling station. There is no air conditioning, but the ground level, out of the sun's reach, is cool.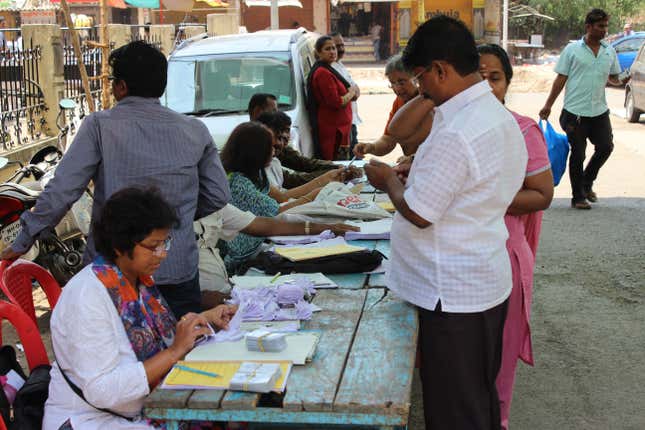 Mukesh Tomare, 38, is a senior organizer on the hierarchy of the Shiv Sena. He oversees 20 shakha pramukhs, as the organizers are known, who in turn are responsible for 2,000 to 3,000 voters in the area.
"Shiv Sena is very well organized because it works as a tree with different pramukhs dividing the branches. The biggest mess here in Thane is finding the actual voters. They are not enrolled in proper addresses," says Tomare.
Before focusing on the campaign, he is focused on finding the voters. He points to Mitesh Panchal, a forest ranger sitting next to me. "If Mitesh lives in one housing society, he may actually be registered in a different society that might not even be in the same district."
Tomare learned this the hard way. A few years ago when he was running for municipal office he lost because, he believes, he spent time talking to people he thought were voters but were not correctly registered. With sparse resources, he wants to make sure his focus is pinpointed.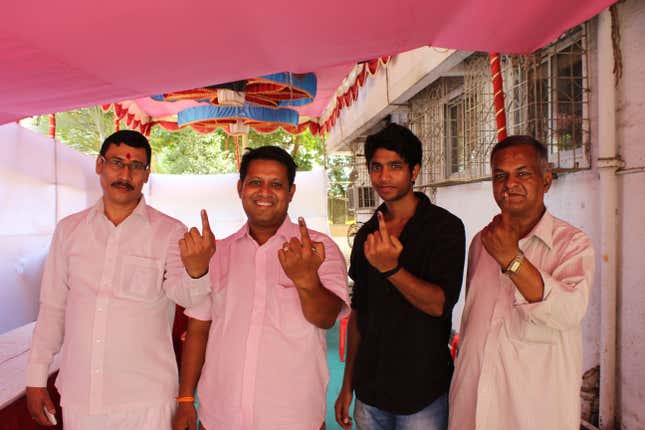 He has overseen the survey of every building within his organizing area, taking down the names of every person according to flat number, floor number, and building. He does not ask about party affiliation during this survey work.
"If you have 100 people on a list, in reality there will only be 60 and of those 60, maybe 40 will vote."
While the Election Commission has conducted its own surveys, Tomare says that the election officials do not do a thorough job.
"We are doing the government's job and not just a little bit. A lot," he says.
The Shiv Sena then goes even further and issues its own election cards to voters that can be used at a polling station to register and can replace the government cards that often don't arrive. Panchel used the voter card he received in the mail from the Shiv Sena to vote. His government card never showed up.
17:20 pm: The day in Dharavi
Dharavi, one of the largest slums in the world, is teeming with activity as usual. This slum has acquired an air of fame over the years for being the most crowded place in Mumbai's city limits, for being the epicenter of the riots in 1992-1993, and more recently because of its exposure to the outside world via a tour company that offers foreigners a glimpse into slum life.
Outside Dharavi Transit Camp Municipal School, the Central Polling Station of Dharavi. The police presence is enormous because 58 polling stations serving 60,000 voters are crammed into one location. Inside, the man in charge is Yashwant Tidke. By day he works as a revenue officer, but for roughly one day a week he switches roles to election duty. That work involves overseeing 269 booth level officers who go door to door in Dharavi to ensure that the voter lists are accurate, a nearly impossible job in a place like Dharavi where living situations are informal and people come and go regularly.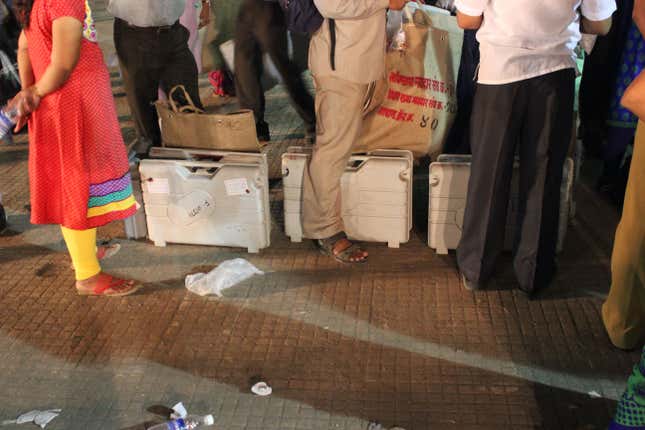 For the past few weeks his work has been full-time related to elections and he now commands a staff about 2,000 serving 274 voting stations in Dharavi.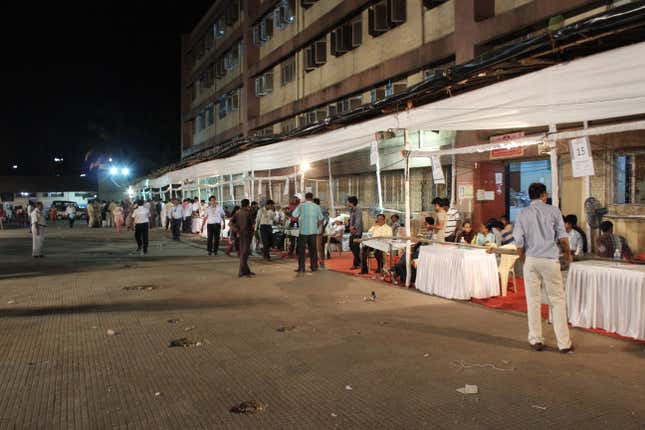 Inside voting booth number 49, one last person casts a vote just before the booth is shut at 6pm. What happens next is a ceremonial and confidential process where the electronic voting machines are meticulously sealed. Cameras are strictly prohibited. The only photo allowed is of the candle in the corner of the room where the sealing wax is melted.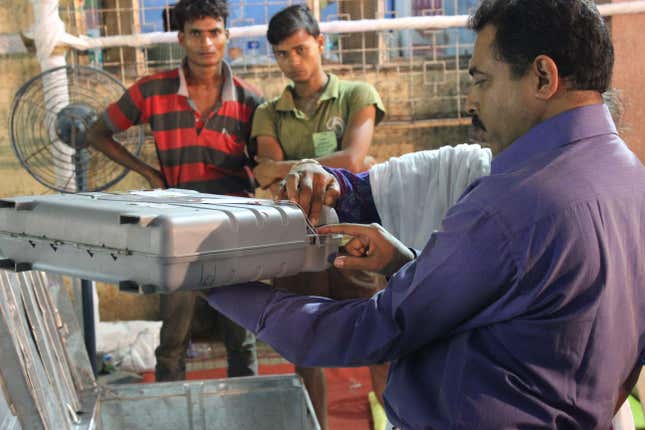 In each booth there are two ballot units with the names and party symbols of each candidate and one control unit that activates the ballot units prior to each vote cast. All three are placed with remarkable tenderness into separate hard plastic briefcases. There are 11 people gathered in the room observing the process, including one police officer. Prabhakar Kadam, the presiding officer of the polling booth, performs all the rituals, personally handling a small piece of the future of India. When asked how he feels sealing the machines, his first response is "exhausted."
"Exhausted unlike anything—physically and mentally." But he says it with a smile on his face. He wears his enthusiasm for his job in his expression as much as in his actions: the meticulous application of the wax, the triple checking of the certificates tied to the briefcases, the delicate tying of the twine that creates the quadruple seal on each briefcase (a wax seal and a twine seal tied to a certificate on both sides of each briefcase). Every movement is a display of his pride in the election process.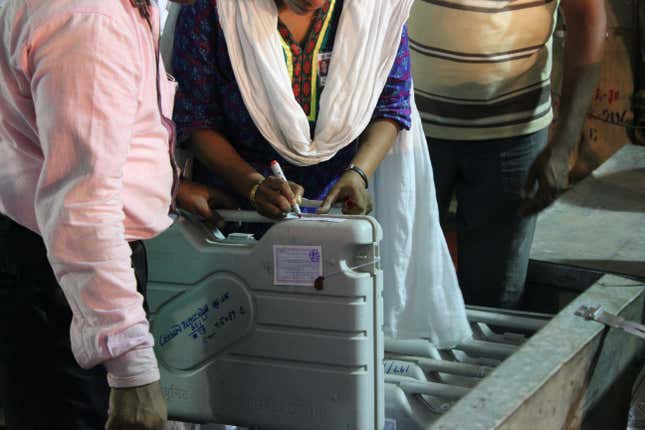 Kadam reveals after the sealing is complete that, out of the 1,075 voters registered to his polling station, 406 showed up to cast a vote.
"The total procedure is so huge. It is going to be crazy, for sure. India is a democracy of emotion. I am satisfied with the entire process, especially my colleagues. They were critical."
Outside, the presiding officers from the other polling stations around Dharavi are filing in and lining up to deliver their EVM briefcases, which are checked, labeled, and loaded into metal trunks that will be collected and taken to a sealed location until the ballots across India are counted on May 16. The checking process is lengthy and presiding officers like Kadam must wait. A man wanders through and hands out small packets of biscuits to everyone, who all mirror Kadam's feeling of exhaustion. And satisfaction.
Tidke is outside, moving from table to table, making sure everything is handled properly."It went very smooth," he says. "We had a turnout of 49%, which is much better than 2009, which was 37%. I am very pleased with today."