Barclays is bidding adieu to the public face of its investment banking business.
The departure of Hugh "Skip" McGee, announced today, clearly signals that Barclays is de-emphasizing aspirations of becoming one of the biggest investment banks in the world.
The move coincides with a number of  leadership changes at the global investment bank as it lays out CEO Antony Jenkins'  broader employee reduction and restructuring plan. The firm is expected to offer more details about its plans for the future on May 8, Bloomberg reports.
McGee's departure comes amid the bank's lackluster fourth-quarter performance, particularly within its investment bank, and public outrage over pay. A Lehman Brothers veteran, who joined Barclays as a part of the bank's acquisition of the troubled North America Lehman franchise in 2008, McGee had become the face of the firm's investment banking operations.
In a statement, the bank noted that the departure of McGee comes as Barclays is facing a raft of regulatory capital rules that have made banking more expensive and onerous for firms (largely due to capital requirements that mandate that firms borrow less and use more of their own money for their investments). In a statement, McGee suggested that new rules are part of the reason for his leaving:
"My focus has always been on clients, but given the need for Barclays leadership to focus on regulatory issues for the foreseeable future, I have decided that it is time for me to move on to new challenges," he said.
Indeed, new challenges seem to be what Barclays' investment bank faces. The investment bank's profits have been nothing if not choppy. It suffered a $329 million loss in the fourth quarter. And its third quarter profits last year, although positive at $463 million, were down 54% from the prior quarter.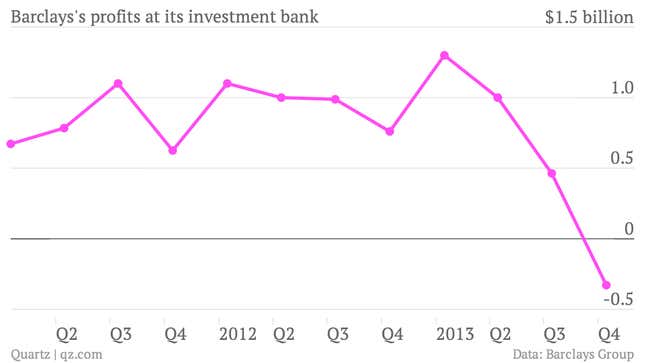 McGee will be replaced by Joe Gold, Barclays' current global head of client capital management, Barclays said in its statement.
It's not entirely clear, given the bank's weak performance and its reduced vision for investment banking, that McGee wasn't pushed out. In a statement, however, Barclays CEO paid tribute to McGee's contributions while at Barclays.  "He has been the longest-serving head of investment banking on Wall Street, and our most senior client-facing executive, responsible for driving some of the industry's highest profile transactions,"  Jenkins said.
Whatever Barclay's longterm game plans are, saying farewell to your"most senior client-facing executive," seems to suggest that the bank's heart is no longer in investment bank.