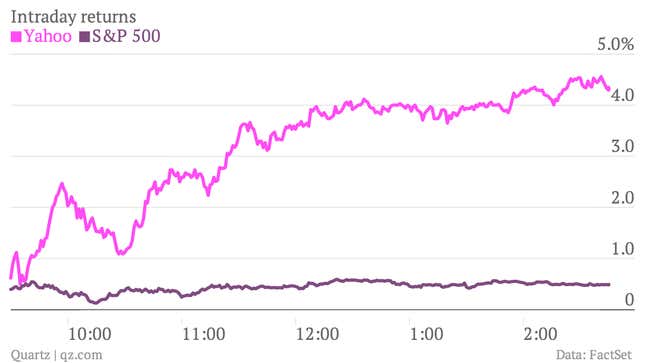 Yahoo shares are up strongly today (higher by around 4.5% at the time of writing) in a flat market. There's no news on the Alibaba IPO front (Yahoo owns 24% of the Chinese e-commerce giant and is in line for a huge windfall when it goes public).
There is news on the original content front, however.
CEO Marissa Mayer has been signaling for a while now that she sees original content as a big part of the internet company's future. But at an event in New York on Monday evening, she detailed plans to commission two original, eight-part comedy series that will be streamed exclusively on Yahoo's online platforms. "Users expect online content to be as good as, if not better than, TV," she said in comments reported by the New York Times.
The two shows actually sound promising. Other Space is a galactic adventure set in the 22nd century, made by the people behind Freaks and Geeks, while Sin City Saints is described as "an off-beat comedy set in the front office of a fictional pro basketball expansion team."
A bunch of internet stocks that have been hit hard in the recent sell-off are rising today (Twitter is up sharply ahead of earnings, Pandora is up 4.6%, Facebook is rising.) But at the very least the market reaction suggests people think Yahoo's original content foray, which pits it against the likes of Netflix, Facebook, Amazon and countless others, won't be an expensive disaster.
It's worth noting that Yahoo made similar noises about scripted video entertainment content before (and well before Mayer's arrival), with very limited success to show for it. But the online video landscape has changed dramatically since then.