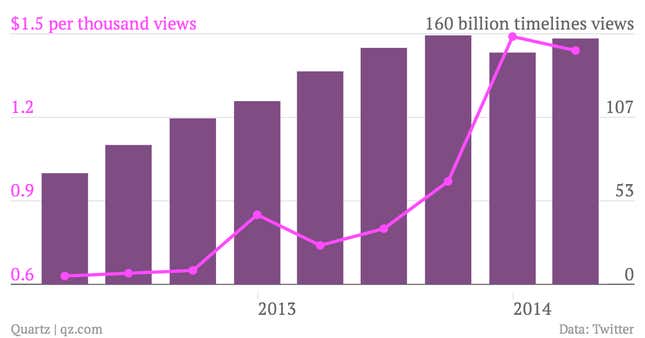 More people are using Twitter more often, but the company isn't generating as much advertising revenue each time people refresh their feeds.
Twitter's first-quarter revenue of $250 million beat analyst expectations, but the stock fell to a new low in after-hours trading. That may be because Twitter's user growth remains modest: About 255 million people now actively use the service, up from 241 million at the end of 2013.
But the most alarming figure is that Twitter generated $1.44 in advertising revenue for every 1,000 timeline views, down from $1.49 in the previous quarter. That's the best measure of the company's ability to make money from its existing base of users, and it's going in the wrong direction.
Twitter essentially has two directions in which it could go: aspire for vastly more users or generate more revenue from the users it has. It's not really doing either at the moment, though total revenue was still up from $243 million last quarter.