The Intergovernmental Panel on Climate Change (IPCC), a UN body, concluded in a report published today (Aug. 9) that carbon-emitting human activity has caused an unprecedented change in climate patterns whose effects are already being felt, are largely irreversible, and will get worse—the only real question is how much worse.
The IPCC has published reports regularly for the past 30 years, but this year's is unusually frank about the dire situation we find ourselves in, and the failures that have led us here. The authors of the report find that, short of drastic action to reduce or eliminate greenhouse gas emissions in the next few years, "global warming of 1.5°C and 2°C will be exceeded during the 21st century."
With the COP26 climate summit coming up in Glasgow in November, the IPCC report also assesses for the first time the role of international politics in climate inaction and takes it into account to lay out different scenarios for the future.
What role did governments play in the IPCC report?
IPCC reports are drafted by hundreds of scientists who review existing literature to come up with overarching analysis and recommendations.
The 195 member countries of the IPCC sign off on different parts of the report. The summaries for policymakers (pdf) are "approved," meaning that "the material has been subject to detailed, line-by-line discussion" between the member countries and the authors. The synthesis reports are "adopted," which implies "a section-by-section discussion." And the full report, which this year runs nearly 4,000 pages long, is "accepted," which means both parties agree that "the technical summary and chapters of the underlying report present a comprehensive, objective, and balanced view of the subject matter."
This is important because it means that 195 governments (pdf) signed off on a report that partly blames them for a lack of progress since the IPCC's last report came out in 2013: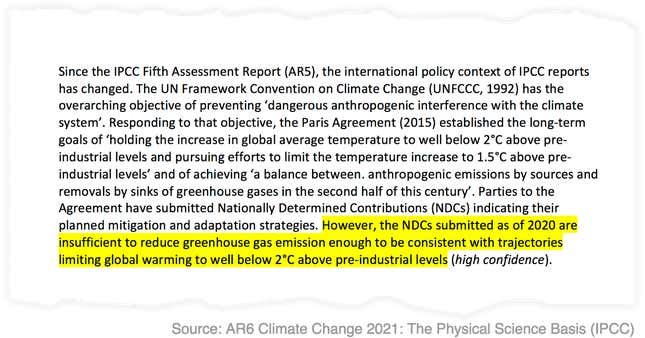 How have governments reacted to the IPCC report?
Since this report has been "accepted," 195 governments have tacitly put their stamp of approval on it. Most countries will also likely wait until COP26 to announce further climate measures.
But that hasn't stopped some of them from issuing statements of their own today, highlighting national initiatives to slow climate change, and calling on further joint action.
UK
As the host of COP26, the UK has a unique role to play in the global conversation on climate change. Prime minister Boris Johnson said: "Today's report makes for sobering reading, and it is clear that the next decade is going to be pivotal to securing the future of our planet. We know what must be done to limit global warming—consign coal to history and shift to clean energy sources, protect nature, and provide climate finance for countries on the frontline."
US
The US has historically been the largest single-country emitter of CO2 (the most common greenhouse gas); in 2018, it was the second largest emitter of greenhouse gases, according to the World Resources Institute, a US-based climate change research organization. Under Donald Trump the US withdrew from the 2015 Paris Climate Accord; it rejoined the agreement earlier this year.
In response to the IPCC report, US president Joe Biden said:
Climate envoy John Kerry said that "now is the time for action and Glasgow must be a turning point in this crisis."
France
Referring to the IPCC by its French acronym, GEIC, French president Emmanuel Macron said "the time for indignation is behind us" and called for "an agreement at Glasgow that is up to the urgency of this moment."
India
Indian prime minister Narendra Modi has so far stayed silent on the IPCC report. (In 2018, India was the world's fourth largest emitter of greenhouse gases, according to WRI.)
Bhupender Yadav, India's minister for environment, forest, and climate change, focused his attention on developed countries and their disproportionate contributions to global greenhouse gas emissions over time. He said the report is "proof" that India "is well on the path of decoupling its emissions from economic growth."
China
The Chinese government hasn't yet issued a statement about the IPCC report.
In 2018, China was the world's largest emitter of greenhouse gases, according to WRI. It frequently suffers from severe floods, a type of extreme weather event that the IPCC predicts will become more common and severe over time due to climate change.
China recently made ambitious moves to tackle climate change, including a pledge to reach net-zero emissions by 2060. However, it is struggling to cut its dependence on coal, and some countries say it can do more.