Twitter desperately needs to find a way to jumpstart its user growth, or it risks becoming irrelevant.
The company's share price has sunk by about 10% today, testing its lowest levels since it debuted on the markets (although still well above its actual IPO price), simply because it user growth is slowing significantly.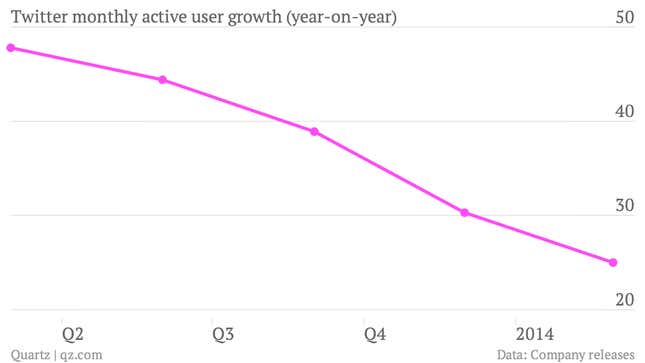 As we discussed earlier this year, Twitter's biggest challenge when it comes to attracting and holding onto new users essentially boils down to content curation. New users can't find the information they want, or filter out the information they don't want. But as Twitter works to rectify these issues, Facebook, which has about five times as many users and an audience coveted by the media and other content providers, might have already stolen the march on it.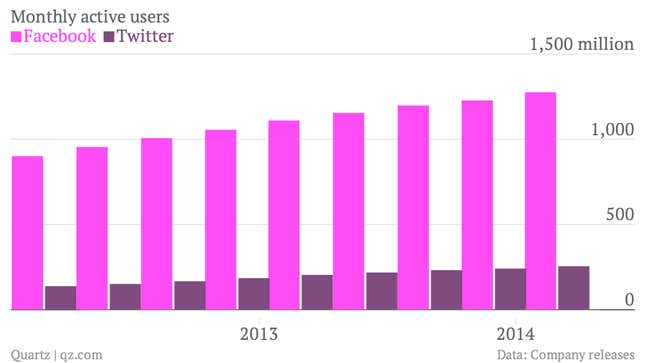 In recent weeks, Facebook has been rapidly improving its content curation capabilities. It has launched Paper, a news-reading app designed entirely for sharing of content, and FB Newswire, a collaboration with the News Corp.-owned Storyful that looks like a direct challenge to Twitter's supremacy in breaking news. It has also tweaked its newsfeed algorithm to weed out low-quality, "spammy" posts.
The irony in all of this is that Twitter is making good progress on monetizing its service. Its revenue was actually higher than Wall Street expected, with advertisers embracing its native ad formats. The problem is that Twitter's stratospheric valuation is built on the service going mainstream. It needs many, many more users to achieve that. "[Twitter] simply must reaccelerate its user base if it is ever to grow into its valuation," Macquarie analysts wrote in a research note this morning.  "On that point, the company is clearly aware of the problems, but there is no one easy fix." Turning the service into a second-rate Facebook certainly won't do the trick.
For its part, Twitter is still putting on a brave face. "Twitter, the platform, we believe is already incredibly mainstream," CEO Dick Costolo said on last night's earnings call, "and now what we need to do is help that world of users who already experience Twitter every day understand the value, the increased value, of the logged-in experience."
Maybe Twitter will be able to build a business around a niche, highly devoted user base. But even its most devoted users are beginning to seriously question its value. In technology, and especially on the internet, the battles for markets are often winner-takes-all (think Google in search). Whether social plays out the same way remains to be seen. If it does, Twitter has a lot of ground to gain, because Facebook's advantage looks almost unassailable.