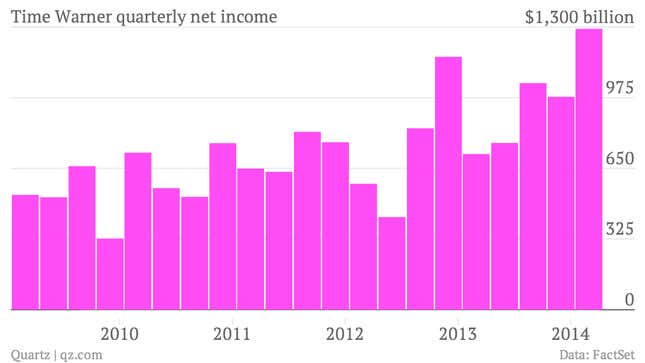 Time Warner Inc. (not to be confused with its cable/broadband namesake, Time Warner Cable) just reported a first-quarter net profit of $1.3 billion, up sharply from a year ago. Revenue was up by around 9% from a year ago, to $7.5 billion. Shares are slightly higher in pre-market trading.
The company's HBO unit posted a 9% increase in revenue, with the quarter featuring the "most-watched freshman series" in its history, True Detective. But the fastest growing segment for the media conglomerate was its Warner Bros. film unit, where revenues were up 14%, to $3.1 billion. This was thanks largely to The LEGO Movie, which has drawn $450 million at the box office thus far.
Revenue at the company's Turner segment—which includes the cable networks TBS, TNT, and CNN—was up 5% thanks to the NCAA men's basketball tournament, otherwise known as "March Madness," which featured the four most-watched college basketball games in history.