It feels like only a few weeks ago that Box Inc. was whizzing toward a flashy IPO. In fact, it was.
In the first two months of the year, trendy technology stocks were all the rage. Tesla was up 62% by the end of February. Pandora had risen 41%. Facebook and Netflix were both sitting on 20% gains. A parade of Silicon Valley-like startups, some with mere wisps of business models, marched toward IPOs.
Fast forward to today. Netflix and Pandora are in the red for the year. Facebook and Tesla have lost significant gains. And Twitter, which seemed the embodiment of the new wave of tech companies when it went public in 2013, is down nearly 40%.
Now there are signs that the softness in the stock market is seeping into the market for technology IPOs. By mid-April, nearly $4 billion worth of tech deals had hit the market. That was roughly 45% of the $8.8 billion worth of deals that came to market in all of 2013. But in the last two weeks of April, hardly a tech deal of note arrived. Just this week, Quartz reported that Box is putting off its IPO until Memorial Day or later, in light of market conditions.
Box's decision to delay its debut reflects a rapid shift among investors who have suddenly refocused on business fundamentals. After a relatively brief period of heady exuberance toward technology shares, investors are again looking more skeptically at companies like Box, which reported losses of $170 million for 2013. One banker said that he believed Box is seeing an "IPO discount," which means investors believe the company may be worth less—perhaps 8% less—than the $2.5 billion valuation it was reported to be aiming for just a few months ago.
"From a valuation standpoint there's a little bit more sanity, a little bit more concentration [on fundamentals] than there was a few months ago,"  said Andrew Boyd, head of global equity capital markets at the giant mutual fund firm Fidelity.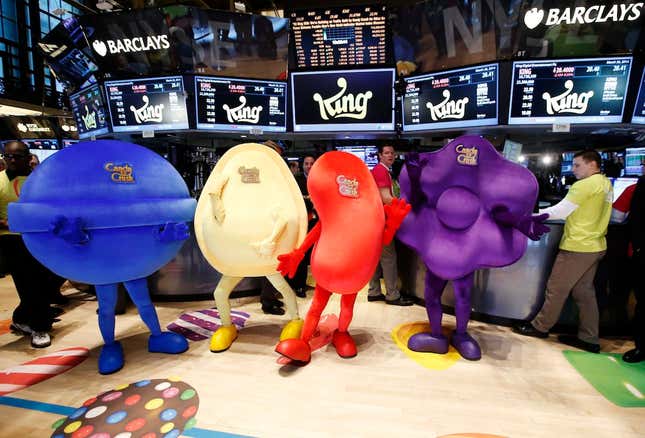 What drove the change in investor mood isn't completely clear.
But starting in early March, the markets clearly cooled on tech shares and IPOs began to falter. The maker of the popular game Candy Crush, King Digital Entertainment, watched its shares slump 16% in its first day of trading. That was the worst performance for a US IPO this year. Sina Weibo, China's Twitter-like service, was forced to accept lower pricing of its shares in order to lure investors to its IPO.
(Weibo priced its IPO at $17–around the low end of its $17-$19 price range. It also sold fewer shares than expected.) Other IPOs have also been facing a chillier reception of late, as this data from Renaissance Capital indicates.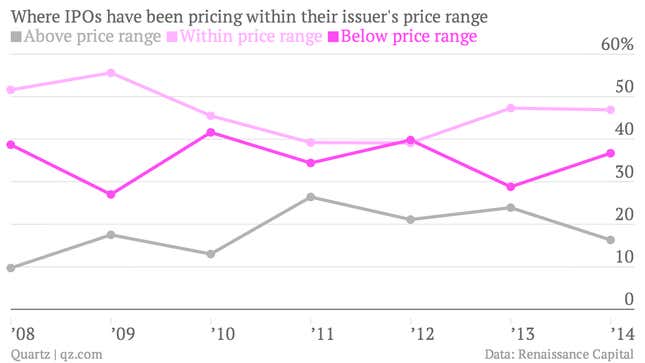 "The IPO market is a fickle market," said Nicholas Colas, chief market strategist at ConvergEx Group. He suggested that uncertainty over the direction of the US economy—which seemed to lose traction during the early months of the year—could have played a role in the shift in sentiment.
Those economic concerns began to bleed into more established tech names like Amazon, Twitter and Facebook, said Robert Pavlik, chief market strategist at Banyan Partners. The performances of such bellwether shares can serve as indicators for how investors feel about tech offerings.
"Once you start to see a pullback in the the momentum drivers like Amazon, it's hard to drum up investor appetite for shares of new tech companies," Pavlik said.
Whatever the ultimate reason, observers say the chill may not last long. Indeed, "pause" is the message bankers are conveying to tech startups who are waiting in line to sell shares to the public.
Wall Street underwriters say the best litmus test of the markets may be a spate of tech earnings reports from companies that recently went public. For example, investors will look at the results of firms such as cloud-based healthcare technology outfit Castlight—which had its offering in March—and King Digital, whose shares have been down by more than 20% since its IPO. Both report results May 7.
But by far, the biggest test of the market is expected to be IPO of Chinese e-commerce giant Alibaba. The company is expected to soon file to list shares in the United States, in an offering that could raise as much as $20 billion, by some estimates. Getting a deal of that size off will require nerves of steel, unless another sudden shift of positive sentiment overtakes investors. And if the floodgates were to open, there are plenty of other deals ready to go.