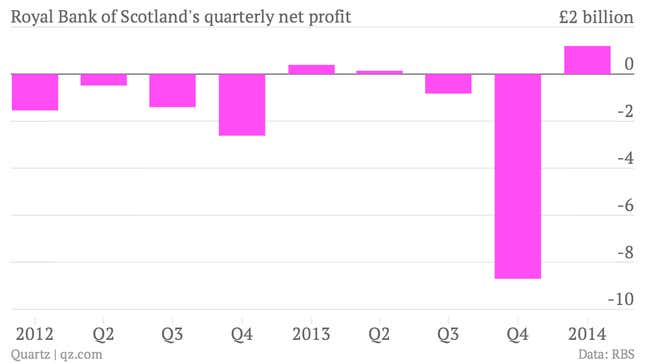 The numbers: Surprisingly healthy. The Royal Bank of Scotland's first-quarter profit trebled from the previous year, to £1.2 billion ($2 billion).  Its share price jumped by as much as 10% in early London trading.
The takeaway: The bank, 80% owned by the British government after a series of blockbuster bailouts, has been more familiar with big losses in recent years. The bank narrowly avoided a break-up last year, carving out an internal "bad bank" to house its most toxic assets instead. Now, Britain's economic boom is boosting RBS's fortunes, as the bank refocuses on personal and business banking in the UK—accounting for more than 60% of its first-quarter operating profit—and away from international expansion and investment banking. RBS has shed 1,300 employees from its investment bank over the past year.
What's interesting: Loan impairments fell sharply in the first quarter, thanks to the UK's rapidly improving economy. This also goes for the unwanted assets squirrelled away in the "bad bank." Excluding this unit, operating profit at the "core" bank rose by only 30% in the first quarter, a good result but not as spectacular as the headline numbers suggest. And even after today's pop in its share price, the bank is trading more than 30% below the level at which the government will break even on its stake in the bank. It will take several more bumper quarters for RBS to regain all of this lost ground.