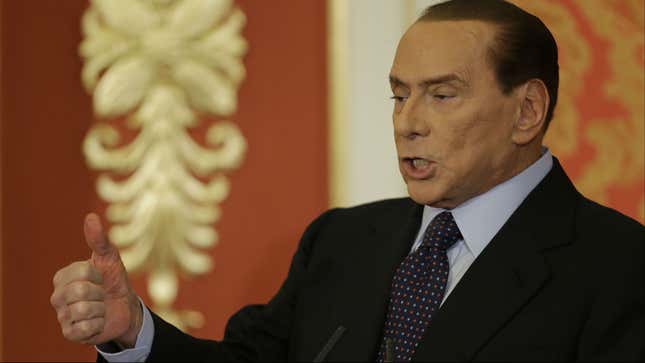 The extraordinary hubris of Silvio Berlusconi never ceases to amaze. After being sentenced to four years in jail for tax fraud committed at his Mediaset broadcasting business, the former prime minister of Italy went on his own TV channel, Mediaset's TG5, to share his side.
The interview, which you can see here (in Italian), ran with a tagline underneath:
"We will respond to this barbarity."
Berlusconi's indignation after being sentenced in Milan over television rights.
Berlusconi led with the same story he's used before. At no time while serving his country did he exercise power over his broadcasting group. (Berlusconi was convicted of conspiring to buy rights to broadcast US movies through offshore companies, while falsely declaring payments to avoid taxes). Why the judge would see things any other way can only be explained as political. Clearly the judge was predisposed against him, he said.
At one point, he's asked to share his reaction to the judge's explanation for the four-year sentence. The judge is quoted as saying it's because of Berlusconi's "natural capacity for criminality."
"This is the most incredible part of the sentencing," says Berlusconi. He's then given ample time to trot out his many good deeds as a citizen, including his longstanding role as an exceptional business leader, world political leader, father and grandfather.
Will he return to politics after the five-year ban imposed by the judge?
I feel forced to remain in politics to reform the justice system, so that what happened to me will not happen to other citizens.
Berlusconi can be confident that his age and the lengthy appeals process will save him from serving any actual jail time. Nonetheless, Italian citizens worried about suffering the vagaries of their justice system might want to wait before engaging in multi-million-euro tax fraud. Berlusconi later clarified that his future political career will not include another run for the premiership, the position in which he'd be able to do the most damage—sorry, "reform".