Yesterday, the global snack giant Mondelez announced plans to combine its coffee business with D.E. Master Blenders to create a company with annual revenue of more than $7 billion. The combined company, which will be called Jacobs Douwe Egberts, would be the largest "pure play" coffee company in the world.
Its biggest individual brands, including Jacobs, Carte Noire, and Pilão, are most popular outside of North America.
Overall, the company's retail value would lag behind Nestle's, according to data compiled by Euromonitor. But it would be the largest in terms of retail volume. The chart below shows the market shares of current major brand owners, compared with the proposed combined company, Jacobs Douwe Egberts: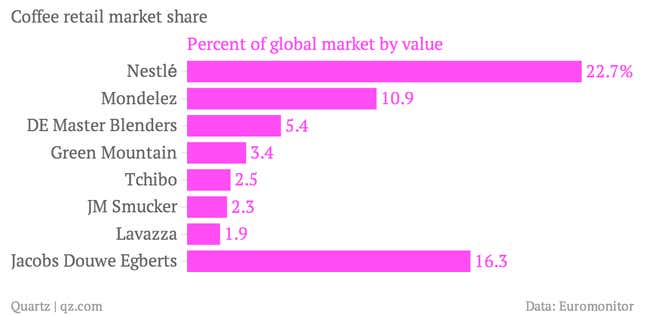 Mondelez will get $5 billion of cash up front and maintain a 49% stake in the combined business.
The other side of the deal is Douwe Egberts owner JAB Holding Company, which is the investment arm and holding company of the billionaire Reimann family.
That family is pretty fascinating in its own right. JAB is mostly owned by four very private siblings, Renate Reimann-Haas, Wolfgang Reimann, Stefan Reimann-Andersen, and Matthias Reimann-Andersen.
The family's wealth dates back to the German chemical company Benckiser, which was started in 1823. It moved into consumer goods in the 50s. The family took the company public in 1997, and merged with the British consumer goods company Reckitt and Colman two years later. The family still owns around 10% of what's now Reckitt-Benckiser, which owns brands ranging from Durex to Lysol to Strepsils.
Albert Reimann inherited the whole company in 1952 and left 11.1% to each of his nine adopted children. The four controlling Reimanns bought out control from their other siblings. 
The family has chosen an unusual strategy. Rather than focusing on property, stocks, and bonds, their company is run by three highly pedigreed CEOs (paywall) who make big deals for luxury and consumer goods companies. So far the company has held them, rather than flipped them.
In addition to the new coffee behemoth, the family owns a substantial luxury portfolio which includes brands such as the high-end shoe brand Jimmy Choo, the perfume maker Coty, and the Swiss shoemaker Bally. Before its $9.8-billion purchase of D.E. Master Blenders, the company spent a combined $1.3 billion on the retail coffee chains Caribou Coffee and Peet's, though the businesses are run separately.
Here's Mondelez's graphic showing the consumer brands that the two companies will combine: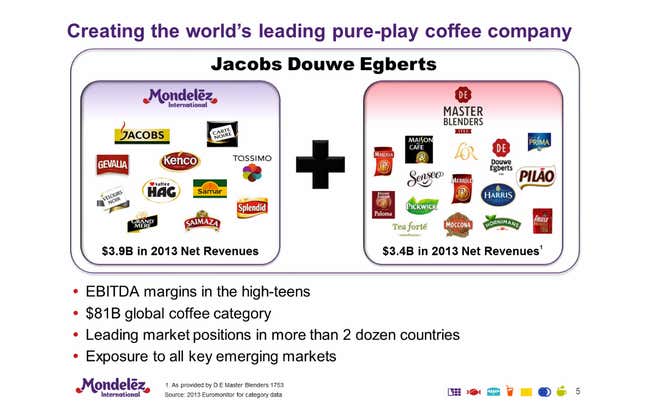 The deal comes at a time when coffee prices are at record highs, affecting the bottom line for everybody in the industry from retail operations like Starbucks to these big agglomerations of brands. Coffee futures are up about 86% year to date, according to Factset. It's a pretty good time for economies of scale.