AOL shares are getting smoked today—they're down 21% after the company reported weaker-than-expected earnings.
The company is trying to rebrand itself as a content business, but the owner of the Huffington Post, TechCrunch and several other websites still generates pretty much all its profits from its dial-up internet business, as well as other internet-based "products and services."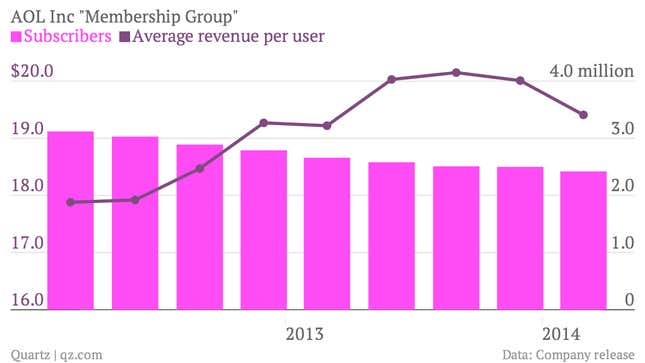 Dialup is a business in inevitable decline. But AOL is not declining as fast as it could be. Amazingly, the company still has has 2.42 million internet customers, who pay for dialup internet access and other services like email. Apparently many don't even realize they are still customers. AOL's average monthly revenue per user was $19.41, higher than a year ago, and the rate of subscriber decline actually slowed (to a decline of 9%, from a decline of 14% a year ago).
This business generated $138 million in operating income (down 6% from a year ago) which AOL can use to underwrite growth initiatives. One of those, "AOL Platforms," a programmatic ad-buying platform, grew revenues by 43% (it now makes more in revenue than membership does) but it still lost money.
Basically, none of AOL's content businesses look like they are anywhere near ready to pick up the slack from the impending demise of dialup yet.