Apple is reportedly in talks to spend $3.2 billion on Beats, the music company co-founded by hip-hop DJ Dr. Dre that is known for its bulky, colorful, wildly popular high-end headphones. But at Bangkok's MBK mall, known for its extensive selection of electronic gadgetry, Beats headphones can be had for considerably less.
MBK's myriad electronics retailers offer a wide array of counterfeit Beats, which have quickly become one of the world's most popular fake electronics. At MBK, the top-end Beats Studio Wireless headphones (retail price: $379) will set you back just $75, and that's before any haggling.
The vendors are refreshingly candid about the counterfeit gear, though they insist the quality is just as good as the real thing. "It's a fake one, sir, from China,"one young vendor told Quartz. "I don't know anything about the real ones—I've never seen one."
Fake Beats are global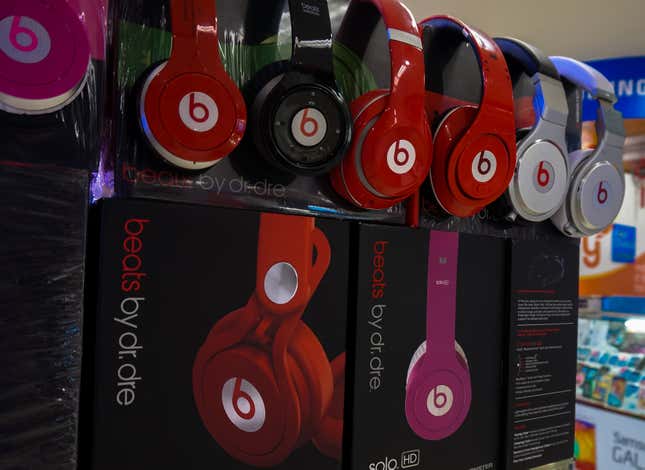 Counterfeit Beats aren't just available in Bangkok: tens of thousands of devices have been seized by customs agents in Britain and the United States, and a report by CNN last year found that they were being shipped out of China to destinations around the world. Beats is certainly aware of the problem. It has a special section on its site describing how to spot fakes: "If the price seems too good to be true, it probably is."
Bona fide Beats are sold at a huge mark-up, making them immensely profitable but also irresistible to counterfeiters. The headphones—beloved by image-conscious teenagers but scorned by audiophiles—are easy to copy because the headphones' appeal is largely based on brand rather than function.
Not that fashion-first headphones are anything new: The iconic white earbuds that Apple introduced with the iPod also became a status symbol of sorts, and the fact that they were uncomfortable and sounded terrible was beside the point. Beats co-founder Jimmy Iovine, who made his first fortune as a record-label impresario, has candidly acknowledged that those crappy white earbuds were an inspiration. "Apple was selling $400 iPods with $1 earbuds," he told Slate.
Simply by virtue of being over-the-ear headphones, Beats sound better than Apple's stock earbuds. But reviewers mostly think they're not worth the price. Product review site The Wirecutter called the original version of the Beats headphones a "trendy tiara with the sound quality of an unmuffled dump truck."
Not a dealbreaker?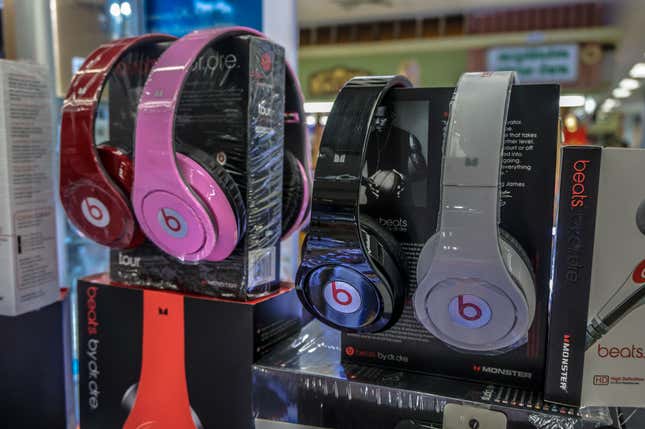 Whatever Beats' technical merits, the company could be valuable to Apple. As Recode's Peter Kafka noted, Beats "has trained lots of people to spend money on headphones with high price tags," which could come in handy as Apple introduces new hardware like the much-anticipated iWatch. There's also the Beats music streaming service, which boasts a few hundred thousand subscribers, and may help Apple in its drive to develop a viable competitor to Spotify and Pandora.
As for the headphones, just because a product is counterfeit-prone doesn't make it worthless—just ask Apple's new retail boss Angela Ahrendts. Until recently she ran Burberry, the luxury goods group that thrived under her leadership despite its trademark plaid pattern being ripped off around the globe. If the Apple-Beats deal goes through, Ahrendts will justify her $67 million signing bonus if she figures out how to make a premium-headphone brand add to Apple's bottom line—even if near-indistinguishable copies can be had for $10.