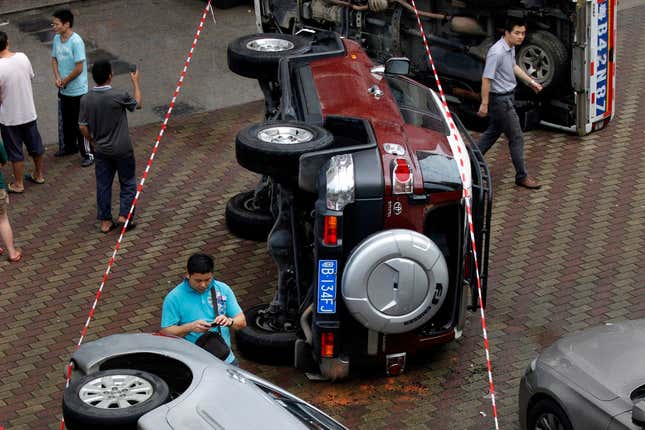 Honda has slashed its full year profit forecast by 20% because of bad September sales in China. No shock there. Honda and its rivals Toyota and Nissan have already disclosed the sales droop they all suffered last month because of an anti-Japan backlash in China, caused by the ongoing row between Beijing and Tokyo over the Senkaku/Diaoyu islands in the East China Sea. Yet the Japanese firms' poor performance is due not just to politics, but to a longer-lasting series of strategy mis-steps.
1. Japanese carmakers have been losing market share in China for several years. From 30% in 2008, it had dwindled to 19% in the first eight months of this year before crashing to 12% in September, according to Chinese magazine Cai Xin. As data from China AutoWeb show, Honda, Nissan and Toyota were not even among China's top 10 best-selling vehicle producers in September, due to the islands dispute. Yet they were putting in a lackluster performance before as well. In July, Nissan and Toyota's China joint ventures came fifth and seventh respectively, trailing Volkswagen and General Motors' local businesses.
2. Japanese brands have been slower than their European rivals to adapt to Chinese needs. One reason Volkswagen and General Motors do well in China, says John Zeng, China managing director at car industry consultancy LMC Automotive, is that they have worked on adapting their mass-market models for China's price-conscious consumers. VW's ads, for example, emphasize fuel efficiency. "But the Japanese car makers focus on selling hybrid cars in China," as they do in many other markets, says Zeng. Hybrid cars do well in Japan, but most Chinese cannot afford them.
Toyota will start producing some parts for its hybrid models in China instead of importing them from Japan, in an effort to bring prices down. Nonetheless, these are marques that are popular with middle-class Japanese, who are richer than their Chinese counterparts. In China, Toyota's new Yaris compact has "been a non-starter, costing some 55 percent more than General Motor's Chevy Sail," according to this Reuters analysis.
Honda, meanwhile, aims to produce more models that are suited to the Chinese market. Nissan has outlined similar plans, though it is focusing on electric cars which are proving too costly for the Chinese.
A Honda spokeswoman said:"Most of Honda's Chinese vehicle lineup is locally produced in China." She added: "Honda has brought down the cost of manufacturing in China by increasing the local procurement ratio of component parts," but did not disclose how this may have boosted competitiveness, if at all.
3. Chinese consumers also just prefer European and American vehicles to Asian models. It's partly because Western products have cachet. There's also a popular perception that Asian goods are less safe, and the Japanese carmakers have unfortunately done little to dispel it. Earlier in October, Toyota recalled 7.4 million vehicles, including 1.4 million in China, because of concerns over a faulty window switch. Honda recalled half a million cars in China in March because the horns did not work. And in August, Nissan recalled over 11,000 sedans in China because of defective engine sensors.
4. European car makers are now very good at designing luxury cars for Chinese tastes.  Firms like Ferrari and BMW have been adapting some of their premium models. BMW's Chinese-only features include longer carriages to cater for people who want to be chauffered around instead of driving themselves. Japanese premium brands, by contrast, don't seem to compete well. In the US, Toyota's Lexus division is what marketers call a "masstige" (mass-prestige) car that vies with BMW for status as the nation's top selling luxury brand. But in China, Lexus has a much smaller business and will only sell around 56,000 models this year compared to 280,600 for BMW, according to forecasts by LMC Automotive.
5. Then there are the import taxes.  Zeng says Lexus is at a disadvantage because it imports all of its models into China from Japan. That means car buyers get hit by China's high import taxes. BMW gets around that by putting some of its production in China. With a joint venture partner, Brilliance Automotive, it builds cars including Chinese versions of its 3 Series and 5 Series models. The result, Zeng says, is that while the BMW 3 Series cars are similar to Lexus's IS marques, "in China, the BMW 3 would work out cheaper."