This article has been corrected.
AMC Networks has been one of the great transformation stories in US television in recent years, but the show that arguably kickstarted its success is now rapidly approaching its conclusion.
Mad Men, AMC's first big original hit, has only two episodes left this year (the second half of the show's final season will air next year) . Before it plucked the drama about a 1960s advertising agency out of obscurity—the script had languished for years, rejected by several other channels—AMC was basically a movie-only channel languishing in the backwaters of cable. Since then it has reinvented itself as a destination for must-watch original shows. Breaking Bad, about a high-school chemistry teacher who turns to manufacturing methamphetamines, was its next hit; then came the more lowbrow but wildly successful zombie drama, The Walking Dead.
To make its shows more popular, AMC has also deftly taken advantage of the growth of online TV. Its shows can generally be bought on Apple's iTunes and Amazon's Instant Video within hours of airing on cable. Breaking Bad's following grew dramatically as viewers caught up and binge-watched previous seasons on Netflix. Other premium networks (think HBO) typically hold on to their shows from much longer to avoid eating into their live/cable audiences, but the downside is a smaller total audience.
But Breaking Bad is now over; Mad Men is drawing to a close; and The Walking Dead will enter its fifth season later this year. And suddenly, investors are worried about how AMC will replace them. At the time of writing, AMC's share price touched its lowest level in a year this week (it has outperformed the market slightly since it was spun out of Cablevision in 2011).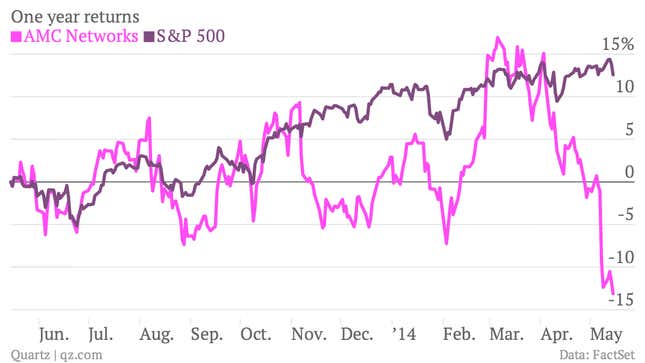 Specifically, investors are worried about how much the quest to find more hits will cost. "Strategically, we agree with the long-term approach AMC is taking in building its networks through increased hours of original programming," Morgan Stanley analysts wrote after the company reported earnings last week. "However, we have been concerned the market was missing the long-term cost and inherent risk in making these investments."
As Nomura analysts points out, AMC suffered the biggest contraction in profit margins in the industry during the first quarter this year, as it ramps up investments in original programming.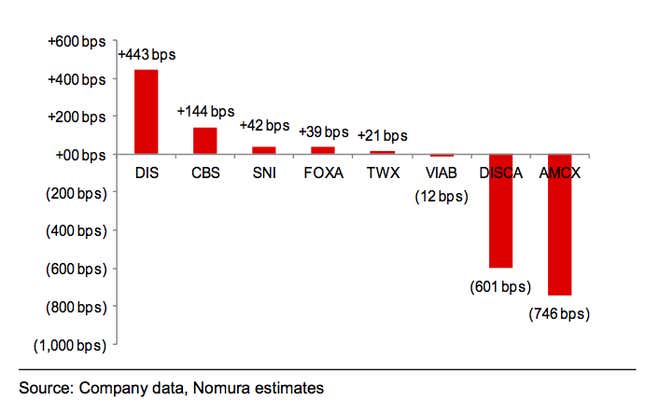 The company has at least three new shows debuting this year. TURN, the "untold story of America's first spy ring," set during the Revolutionary War, has already started; Halt and Catch Fire, a drama set in the 1980s about the birth of the PC era, will begin in June; and Better Call Saul, a prequel to Breaking Bad, is slated to begin in November. But a great deal rides on whether they can capture the same enthusiastic audiences as shows like Mad Men.
The more successful AMC's shows are, the more it can charge cable companies like Comcast and Time Warner Cable to carry its channels. (In addition to the AMC channel, AMC Networks owns others, like IFC and Sundance.) So its strategy to drive more original programming make perfect sense. But it's an expensive business, and a volatile one.
Correction (May 16): An earlier version of this article stated that Mad Men has only two episodes left to run in its final season. It has two episodes left to run this year; the second half of its final season will air in 2015.