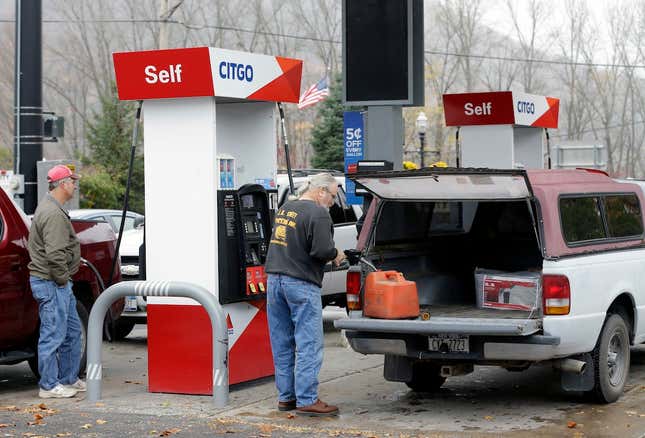 Update: Gasoline and oil prices moved in opposite directions Oct. 29–gasoline futures jumped, while oil declined–as Hurricane Sandy struck the US East Coast. Some 70% of the region's refineries were either closed or closing as a precaution against flooding or wind damage. Some analysts called the storm the biggest to hit the US in memory, and said the affects in terms of prices would linger for awhile after the hurricane passed.
UK-traded Brent crude closed down at $109.44 a barrel and US-traded WTI at $85.54 a barrel.
Posted previously: Hurricane Sandy is having a split impact on fuel—oil prices are pushing downward, but gasoline is likely to go up. And these opposing movements are likely to become more accentuated.
UK-benchmark Brent crude oil—the variety for most of the world except the US—is below $110 a barrel. US benchmark crude, known as WTI, is down 13% since last month, below $86 a barrel. Both benchmarks had already been plunging in price because of falling consumer demand and the laggard global economy. But demand for oil is declining further because of Hurricane Sandy.
The US by far uses most of its oil to make gasoline, and the US east coast—the path of Hurricane Sandy–has the highest consumption of gasoline in the country, and perhaps of any single concentrated region in the world. According to the Energy Information Administration, the East Coast consumed 3.1 million barrels of gasoline a day in July, compared with about 2.5 million barrels a day in the Midwest.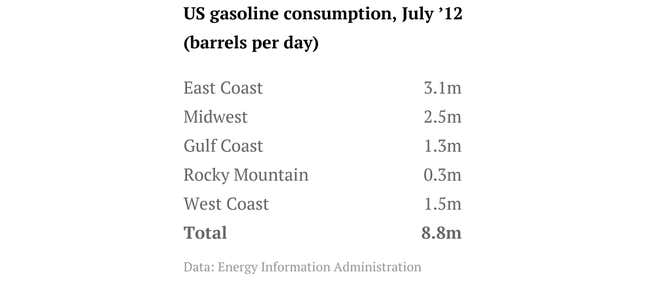 With very few motorists on the road, and many businesses closed across the states—including in New York, the largest city in the US–that rate of consumption will probably plummet. "The impact on demand may not last for hours but more than likely for days," oil trader Phil Flynn said in an Oct. 29 note to clients. "This could be the biggest demand destruction event in history."
The reason for the paradoxical increase in gasoline prices is that, while oil is plentiful, gasoline is not. That is because refinery production is tight and may become tighter. Refineries are bound to shut down either as a precaution or because of hurricane damage. Already the 238,000-barrel-a-day Bayway Refinery in Linden, New Jersey, has closed. As a result, gasoline futures were up (paywall) by as much as 4% on Oct. 29. If this rise in futures prices holds, it will filter through to the pump before long.