Facebook is home to 1.28 billion monthly active users, making it more populous than the European Union. But that doesn't mean it won't get any bigger.
A number of huge countries still have relatively small numbers of Facebook users, according to data collected by iStrategyLabs, a Washington, D.C.-based digital services provider. Using the "potential reach" figures Facebook provides to advertisers, iStrategyLabs came up with estimates of the social network's penetration across the 50 most populated countries. Here's what the data look like worldwide.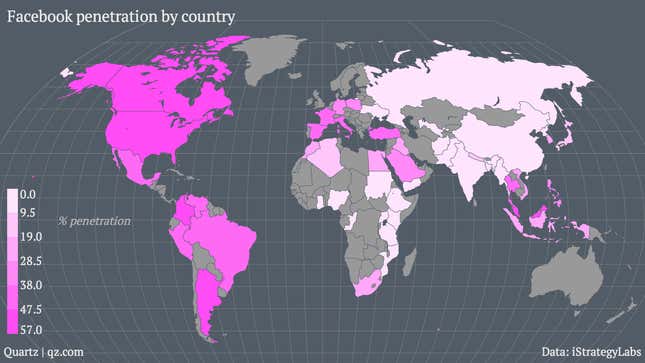 Not surprisingly, English-speaking countries top the list. With well over half of their populations already on Facebook, the United States, Canada and the United Kingdom together account for over 200 million users. That doesn't leave much room for growth.
The prospects look brighter further afield. Penetration in huge developing economies like India and Nigeria is in the single digits. And while the Japanese love Twitter, only 17% of them are on Facebook.
Facebook's success in countries outside the Anglosphere suggests that its product has universal appeal. Over half of all Malaysians and Argentines use it, for example, with Colombia, Brazil and Turkey also in the list's top 10. Indeed, its biggest hurdle to widespread adoption might be limited overall internet use and poor infrastructure. This map of total internet penetration by country looks pretty similar to the Facebook map.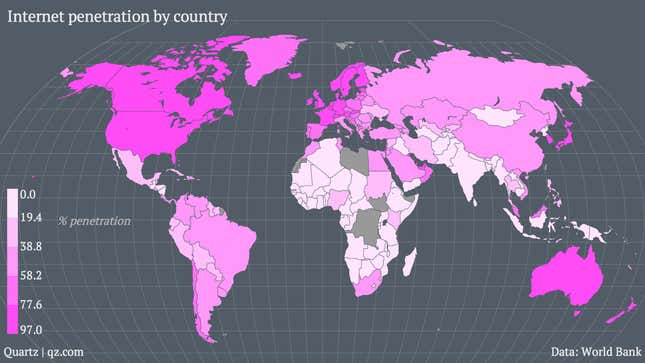 The biggest discrepancies between these two maps are in countries that actively block Facebook, and there are no signs that the Chinese Communist Party is going to open its Great Firewall anytime soon. But even if China remains closed, better internet infrastructure in India, Nigeria or Pakistan could bring hundreds of millions of new users.
Facebook has found success in the past by simply circumventing bad infrastructure, for example with Facebook Zero, a text-only version of the social network optimized for mobile-minded emerging-market users. This approach won't be good enough, however, to cultivate the kind of dedicated user base Facebook enjoys in the West.
That's why CEO Mark Zuckerberg is pushing the view that connectivity is a human right. He thinks the number of global internet users should be nearly tripled, with 5 billion more added to the current 2.7 billion.
The data show that Facebook has plenty of room to grow alongside the total number of internet users worldwide. It might be a behemoth, but in some parts of the world, Facebook is just getting started.
Editor's Note: If you're interested in this subject, join us in Seattle on June 2 for The Next Billion, a forum on the connected world.