Artist Richard Prince has been appropriating other people's images since before the internet existed. In the early '80s, he began re-photographing advertisements featuring the Marlboro Man, re-printing them, and calling them art. Last week, one of Prince's cowboys sold at auction for $3.7 million. Prince, who worked in the tear-sheet department at Time-Life, understood the sex appeal of advertising images like those of the Marlboro Man, and used it to his advantage while questioning their context.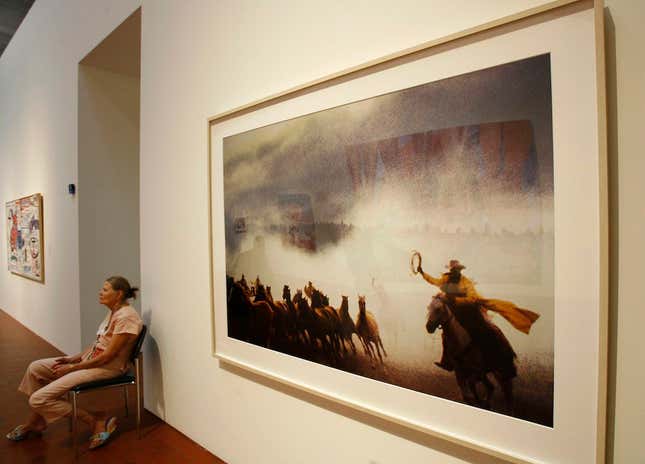 Sex permeates Prince's work: paintings of provocative nurses inspired by pulpy novels, re-appropriated photographs of topless biker babes (NSFW), and "Spiritual America," a re-photographed image of a 10-year old Brooke Shields, naked and posing like a Playboy model twice her age. That was the image that got Prince temporarily kicked off Instagram, the photo sharing service owned by Facebook, in March. He called it a "bummer" on his blog, and went on to write that the medium reminded him of his "gang" photos of the '80s:
I would organize nine photos on one huge piece of photo paper. Usually 86 x 48". I'd cannibalize a life-style magazine… some surfer or motorcycle or heavy metal or hot rod mag and re-photograph the contents… I'd boil "the life and its style" down to a grid of nine images and frame it up and hang the choices on a wall. The "gangs" were like having a whole show of images in one frame. I pretty much found that I could do the same on Instagram… except… the photo paper was an electronic page, the source material was Google, and the re-photography was a screen-save.
Prince's description of creating the gang photos sounds a lot like how the soi-disant "curators" of the internet describe the process of creating a blog, a Tumblr page or, yes, an Instagram account. Now it appears that Prince has added another wrinkle to his modern meta-take on sex, art, and appropriation.
All this past week, the artist has been posting portraits from other people's Instagram feeds, which he has printed out and rephotographed with the edges visible, like a physical #regram. He started with celebrities and swimsuit models such as Sky Ferreira, Pamela Anderson, and Candice Swanepoel, and has since moved on to artworks by Jeff Koons and Laurie Simmons.
The images appear to be printed on paper, but Animal reported that one image of model Jessica Hart, that has since been taken down, carried the caption: "Jessica Hart's new portrait 48X56″ ink jet on canvas. Will stretch it this week."
Instagram is having a moment elsewhere in the contemporary art world as well. One of the other more entertaining quarters is a feud via Instagram between artist Wade Guyton and Christie's contemporary art specialist Loic Gouzer, as Quartz has reported.