This item has been corrected.
Demand Media's rise and fall is an object lesson for internet companies: If you live by somebody else's algorithm, you'll die by somebody else's algorithm.
The company manages a stable of websites—eHow, Livestrong, and Cracked.com among them—that publish masses of cheaply-written articles aimed at scoring high traffic from search-engine results. Demand's 2011 IPO had it valued at $2 billion. But after Google changed its algorithms to privilege higher-quality content, Demand Media's traffic dropped tremendously—along with its stock price, from a high of over $24 to just below $5 a share.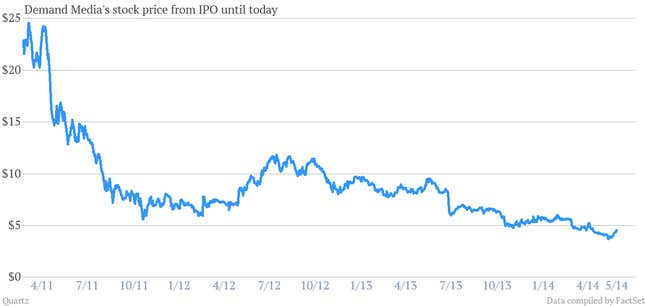 Today, Wall Street is fairly skeptical of the company. Six brokers who cover the stock predict sinking revenues in 2014 and are offering a target price ranging from $7.50 to as little as $4 a share.
But there are some outsiders with a different opinion: Anonymous Analytics, a corporate research organ that bills itself as a "faction" of the online hacktivist collective.
Anonymous Analytics says its goal is to expose fraud and corruption at publicly traded companies. So far, it has targeted Chinese firms traded on US stock exchanges for allegedly misrepresenting their businesses, and the Corrections Corporation of America, the country's biggest private prison operator, arguing that its revenue projections are too rosy. While their research offers more cynical humor than the average analyst report, the authors are clearly conversant in business analysis and have gone out of their way to do research others haven't; in one case, a contributor in Africa visited properties owned by a company to determine that their value was misrepresented.
So it's surprising that, after a year of silence, the organization's volunteers have come forward with their first-ever "Buy" recommendation. They argue in a new report that Demand Media is worth quite a bit more than Wall Street thinks—between $8.38 and $12.44 a share.
"The world is an incredibly bleak place if you are constantly looking out for frauds, and we wanted to experiment with taking our skills and applying it to the long side," an anonymous (naturally) representative of the site said in an e-mail message to Quartz. "Demand Media gave us a chance to take the other side of consensus and provide a different view—everyone seems to hate this company."
The representative also said that the authors of the report do not have an interest in the company, and more fraud-focused reports can be expected later in the year.
The demand for Demand
The report makes the case for Demand Media for two main reasons.
First, and most importantly, it thinks that the market is undervaluing Demand's domain registration business. That business, called Rightside, made aggressive investments in the new top-level domain system for assigning internet addresses—it manages numerous new domains, including .democrat, and has contracts to handle registry services for Donuts, a vehicle investors use to purchase new domains. Rightside will be spun off this year and will be the second largest firm in domain registrations, after GoDaddy, which is set to go public this year. With that kind of attention, Anonymous Analytics predicts Rightside's value should be between $4.92 and $7.16 a share, higher than Demand Media as a whole is trading for right now.
Second, Anonymous Analytics argues, all those traffic farms Demand Media owns are improving, too. Efforts to prune dead wood and improve quality have at least stopped the sites hemorraghing web traffic, and the company has found other sources of revenue in e-commerce. The analysts think it will still generate substantial cash flow even as it loses money; they say the business is comparable to IAC's About.com, a similar content farm acquired for $300 million in 2012. When Rightside is spun off, IAC or, more likely, private equity investors like Oak Investment Partners and Spectrum Equity (who already own large chunks of the company), may make a move to take the remaining part of Demand Media private. In the analysts' view, this enterprise plus cash on hand is worth between $3.45 and $5.25 a share.
Anonymous Analytics has picked a nice test for itself: In an age when investors are putting eyebrow-raising amounts of cash into tech companies, it's picked the one nobody wants to touch. But it's also in a sector the hacktivists know best: The underbelly of internet infrastructure.
Correction (May 28): An earlier version of this article incorrectly reported how much IAC paid to acquire About.com; it was $300 million in cash.