Amid the wreckage of the euro zone's financial industry, it's important to celebrate small victories. So raise a glass to the latest European Central bank data (pdf) on lending, which showed private-sector loans falling by only 1.8% in April, up from a 2.2% decline in March.
Hooray!
Of course, few will celebrate the fact that bank lending has now been falling for two years, even if the decline has become a bit less severe. The picture for corporate borrowers remains particularly grim: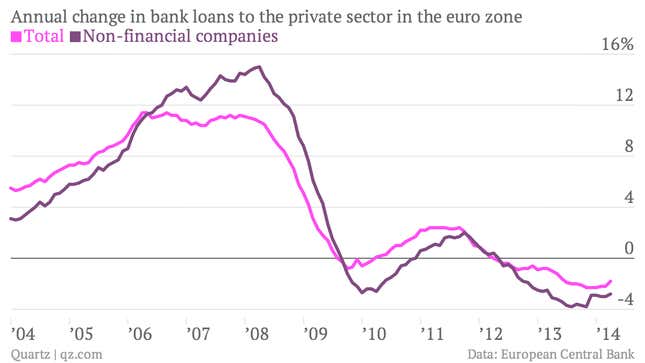 It now seems a foregone conclusion that the ECB will cut interest rates at its meeting next month, perhaps even pushing the rate it pays on deposits below zero in an effort to encourage banks to lend.
Some market watchers also expect some sort of "credit easing" to unblock the flow of credit to companies, perhaps based on the Bank of England's Funding for Lending Scheme. This would see the ECB offering banks access financing at rates that grow cheaper depending on how much lenders boost business loans. In a recent research note, Frederik Ducrozet of Crédit Agricole put a 50% chance on the ECB announcing credit-easing measures next month.
Whatever the ECB does, the latest data underscores the need to do something—anything—to break banks out of their stupor. Until then, the monetary union's "bloated, growth-killing zombie of a banking system," as we put it recently, will continue to hold back the euro zone's half-dead economy.