What do star golfer Phil Mickelson, corporate raider Carl Icahn and famed Las Vegas gambler William T. Walters have in common? Federal insider trading probes. The trio reportedly are ensnared in a series of investigations led by the Federal Bureau of Investigation and the Securities and Exchange Commission concerning trades made based on non-public information—otherwise known as insider information—report the Wall Street Journal (paywall) and New York Times (paywall), both citing people briefed on the probes.
The cast of characters alone makes the story fascinating. Mickelson is one of America's highest-paid athletes; among active golf players, his feats on the links are eclipsed only by Tiger Woods. Carl Icahn, meanwhile, is a billionaire activist investor known most recently for duking it out with hedge-fund titan Bill Ackman over nutrition company Herbalife. Then there's Billy Walters, a Kentucky-born bettor in his late '60s who reportedly rakes in millions a year in sports gambling (paywall).
The FBI and SEC are investigating conspicuously well-timed trades of shares in two consumer goods companies placed by Walters and Mickelson over the last three years, say reports. While one probe is examining whether Icahn tipped off Walters—who reportedly then clued in Mickelson—to potentially market-moving investments before he made them, a separate probe involves only Walters and Mickelson, and not Icahn. Note that just because investigations are underway doesn't mean the government will bring a case.
Here's what we know so far based on reports:
The first investigation involves shares in the Clorox Company, maker of the eponymous bleach and other household products. Investigators are reportedly looking into whether Icahn alerted Walters to his plan to make a takeover bid for Clorox in 2011, which caused the stock to jump. Here's the WSJ's timeline: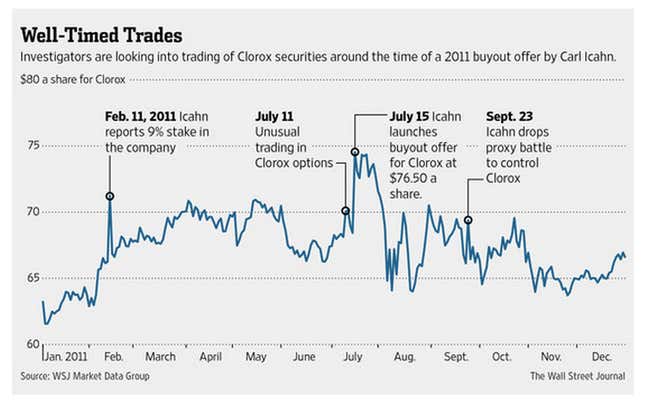 The other investigation looks at Walter's and Mickelson's investments in Dean Foods shares in 2012; apparently, Icahn wasn't involved in this particular transaction.
The Times reports that investigations on the trades started in earnest at least a year ago, when the FBI confronted Mickelson at Teterboro Airport in New Jersey to question him. The WSJ notes that Mickelson was approached by FBI agents after his second round of golf competition called the Memorial Tournament in Ohio. On early Saturday morning, Mickelson, playing at golf tournament in Ohio, said he'd "done absolutely nothing wrong," adding that he's cooperating with investigators, reports ESPN. Mickelson's lawyer told the WSJ that the golfer isn't the target of the probe and is cooperating with the FBI.
Icahn told the WSJ he does not know Mickelson.
Mickelson knows Walters because the two golf together, during which Walters occasionally shares stock trading advice, reports the WSJ (it's unclear that that act alone is criminal).
Icahn knowns Walters through a Las Vegas investment he made in Stratosphere Hotel & Casino back in 1998.
The probes come as investigators like US attorney Preet Bharara have moved to crack down on white-collar crimes, including insider trading.