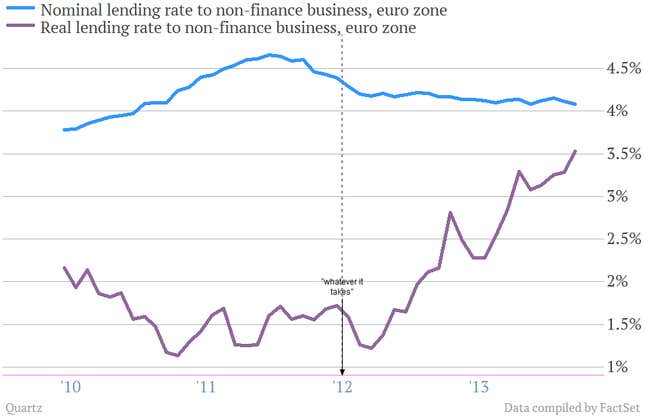 This chart, which we've borrowed from the Council on Foreign Relations, shows why so many people are urging European Central Bank chief Mario Draghi to cut interest rates and take other steps to stimulate the European economy: The blue line shows the nominal average rate businesses can borrow money at in the euro zone. When Draghi promised he'd do "whatever it takes" to protect the euro zone monetary union, he succeeded in stabilizing those nominal borrowing rates.
Or so it appears—but the purple line (the nominal rate minus the year-over-year change in inflation) shows what's really happening, as the ECB's tight monetary policy has pushed inflation down to incredibly low levels. That has significantly driven up the real cost of borrowing money.
Cheap lending fuels economic expansion, and without it, companies are slow to grow. That helps explain Europe's anemic growth and high unemployment, which, combined with disinflation, are putting pressure on Draghi to rethink the ECB's priorities.