This post has been updated
Most business cards are a variation on a relatively narrow theme, a name and contact information on some kind of paper. And with the advent of the smartphone and many apps designed to replace them, they're increasingly obsolete.
But employees at Lego at least have business cards that aren't just memorable, but could actually inspire someone to work at the company. They're 1.5-inch tall Lego minifigures, with the employee's name on the front and contact information on the back. The photo below was posted by a Reddit user, who claims it came from a guest at his hotel who's a designer at Lego: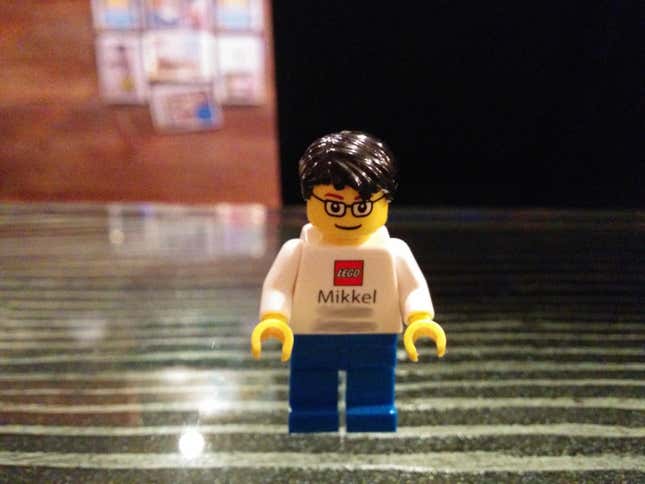 It's not just a quirk unique to this particular Lego employee. The company's CEO, Jorgen Vig Knudstorp, actually has a figure of his own, according to the Wall Street Journal. The figures aren't standard, but are manufactured to look like the person carrying them. You can see a video of a Lego employee next to her minifigure business card at Gizmodo.
The figures reportedly originated when a designer made a small Lego version of Knudstorp to give to him. On a practical level, they're definitely much more likely to be kept and remembered than the standard paper business card.
It's not clear whether the figures are available to all employees, or just relatively senior ones. (Lego did not immediately respond to our request for comment.) The company has sold billions of the standard minifigures since their debut in 1978.
Update, June 6th: Lego corporate communications director Charlotte Simonsen confirmed that it's mostly senior managers that have the minifigures, and that the department in charge of producing most Lego minifigures at the time came up with the idea.    
A Flickr user posted a photo of some figures he says he got during a Lego Inside tour, which is an extensive tour of the company's headquarters in Denmark offered a few times a year.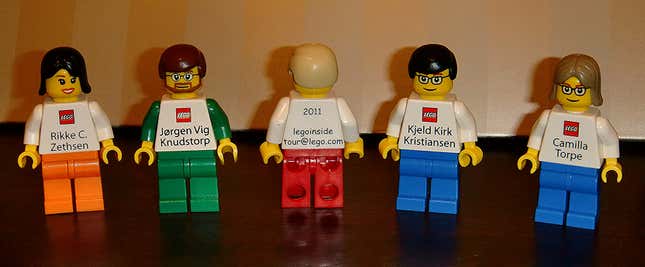 Below is a photo of Knudstorp in real life. The minifigure above (second from left) is a pretty solid likeness.