The numbers: Gloomy, as expected. Prada's profits fell 24% in the first quarter compared to the same quarter last year. Net income dropped €105.3 million ($143.3 million), down from €138.2 million. Sales slipped 0.6% to €777.7 million, compared to the prior year period.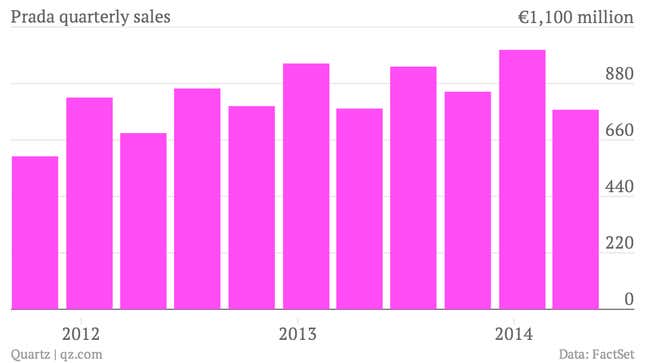 The takeaway: Prada's performance mirrors an overall slowdown in luxury spending as well as a strong euro, but CEO Patrizio Bertelli remained optimistic. "We do not believe that the current difficult macroeconomic environment, made all the more complex by unfavorable foreign exchange trends, will impact the plans for corporate growth presented to the market," he said. "These plans are geared towards the group's expansion in the medium/long-term."
What's interesting: Leather goods — think shoes and bags — continue to sell, with sales up 64% in the last two years. Bertelli has emphasized the importance of the brand's "Made in Italy" pedigree. Now, the company is taking more control of its supply chain, investing in additional factories in Italy and England, and constructing a new technical academy in Tuscany to train the next generation of manufacturers.