A fresh wave of corporate computer-buying is starting to materialize, which could be great news for both computer giants and the US economy.
Last week, the world's largest chipmaker, Intel, raised its profit forecast for the second quarter, saying it's seeing a stronger-than-expected surge in sales of computers to companies. Intel's comments echoed similar optimism from Hewlett-Packard, which reported quarterly earnings in late May. "Overall we're seeing a slowing market contraction and signs of stabilization, particularly in commercial PCs," HP's CEO, Meg Whitman, told investors on the company's post-earnings call.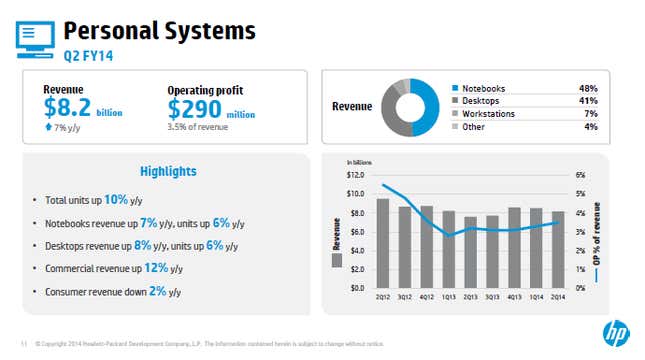 China's Lenovo also said similar things, suggesting that corporations in both the US and Japan are in the midst of upgrading their aging fleet of computers. (The average age of companies' computer stock is between five and seven years, according to JPMorgan analysts.) Moody's analysts note that these company purchases are a big boon computer makers, as corporate machines tend to be higher-margin than consumer PCs. Moody's estimates that the upgrade cycle could last another 12 to 18 months.
Besides being good news for computer makers, a rise in business spending on computers is also a welcome sign of corporate capital expenditures, a much-needed ingredient to support late-stage growth in what's getting to be an increasingly drawn-out economic recovery in the US (paywall).