If Americans really are having dogs instead of children, it makes perfect sense for consumer products giants to pay attention.
And that certainly seems to be what Colgate-Palmolive is doing.  Speaking at an investment conference hosted by Deutsche Bank in Paris this week, chief executive Ian Cook shed some light on why the company—whose name is synonymous with its toothpaste—is so enthusiastic about its pet food sector. According to a transcript provided by FactSet:
We like the pet nutrition business a lot. It profiles very similar to oral care, in fact–by which I mean there is a strong emotional connection, in the sense that you're putting a product in your kid's mouth or your pet's mouth. And these days, it's difficult to know whether a child parent or a pet parent dotes more on their child. Some pet owners say, at least the pets don't talk back. So that gives you a great brand strength. That gives you pricing leverage.
Colgate has actually been in the pet food business for years. It acquired its pet food subsidiary, Hill's Pet Nutrition, back in 1976. But the company still makes most of its money from oral care products, where it is the dominant player in most categories (including manual toothbrushes, toothpaste and mouthwash).
Pet Nutrition has actually declined as a proportion of total company revenue over the past decade, according to FactSet.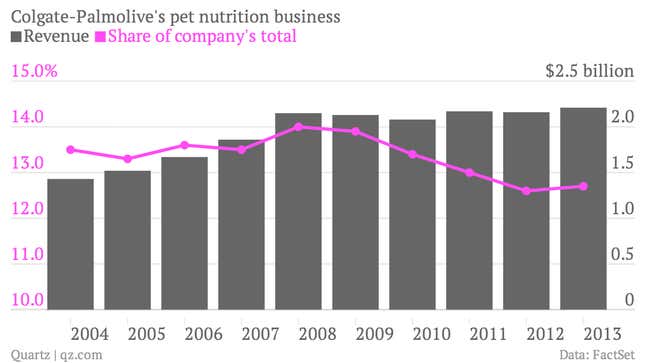 But it remains an important segment for the company. And it's not just the connection between pets and children that sets Colgate up to do well in pet nutrition. Cook pointed out that the distribution strategy in pet food and oral care products is also surprisingly similar: toothpaste and toothbrush sales are helped by recommendations from dentists, while pet food sales are influenced by recommendations from veterinarians.
So as pet ownership rates rise in developed markets such as the US, and premium dog food sales outpace cheaper products, Colgate could stand to benefit. For example, Colgate has high hopes for a new weight loss solution it has developed for obese pets.