Alibaba might be best known as one of the world's biggest e-commerce companies. But now it's getting into a new business: soccer. The Chinese e-tail giant recently announced that it was spending 1.2 billion yuan ($192.5 million) to buy a 50% take in Guangzhou Evergrande, a leading Chinese soccer club.
Under the former Italian national team coach Marcello Lippi, Evergrande has risen to the top of the pack in China, taking the country's first-ever Asian Football Confederation Champions League cup. It'll also be one of the most valuable soccer clubs on the planet, if Alibaba's bid goes through, based on Forbes' calculations: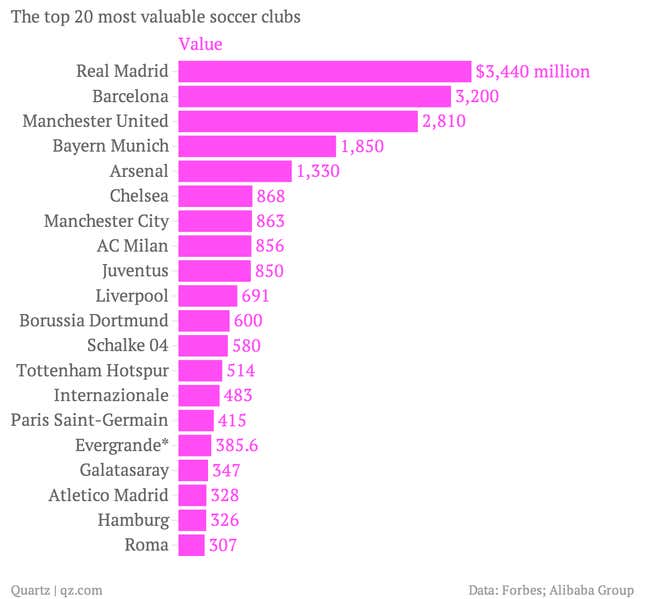 What's behind Alibaba's big buy? Branding, for one. Soccer is far and away China's most popular spectator sport. As the company explained in the updated IPO prospectus it filed yesterday, the Evergrande investment "would potentially provide us with a marketing platform with access to millions of soccer fans across China."
Still, it's not entirely clear whether this purchase is worth it. China's just not that great at soccer, compared with the rest of the world. The only time it has ever qualified for the World Cup was in 2002. Here's how the team stacks up in FIFA's latest point-based rankings, wedged between Equatorial Guinea and Iraq in the 103rd spot (for FIFA's methodology, read this):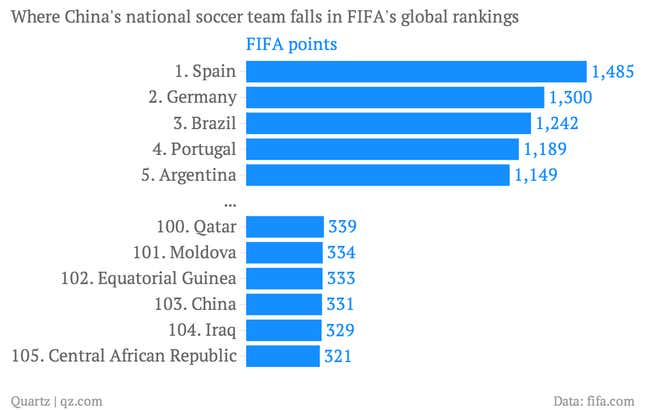 Part of the reason for China's relatively weak performance in the sport may be that even though people love to watch it, not so many of its children play it, in part because the narrow focus on academic competition among youngsters, as well as the excessive homework load. "Education is this huge monster in China and is really demanding on the kids," the American coach Trevor Lamb told the South China Morning Post (paywall). "Kids of 10 years old are doing three or four hours of homework a night. It's incredibly competitive and there's not much room for any sport, let alone football."
Without having a big base of talent to draw from, Chinese teams have to import. And building a top-notch club can be expensive; the total cost of player wages for the top four divisions in the English Premier League averaged €1.6 billion in 2011/12 (pdf, p.9). For example, the Paraguayan striker Lucas Barrios signed up at Evergrande for a four-year, €12-million ($15.6-million) contract in 2012 (though Barrios later left the team, accusing it of failing to pay his salary on time (paywall)).
Chinese clubs also don't tend to make much in ticket sales. A Spiegel Online report last year noted that the most expensive ticket in the stadium was just €17.
Of course, soccer clubs can be enormously profitable. Perhaps Alibaba's new investment will be too, after it figures out how to boost revenues and develop its farm team system. Or maybe the marketing platform offered by jerseys and billboards will offset the costs. Still, that's an awful lot of uncertainty for a company that's gearing up for one of the biggest tech IPOs in history.