Amazon CEO Jeff Bezos is expected to unveil the company's first mobile phone tomorrow at an event in Seattle.
On the surface at least, this looks like an extraordinarily brash move. Apple's iOS and Google's Android already have a near duopoly worldwide in smartphone operating systems. Apple and Samsung are well entrenched as the leading handset makers. Nokia, BlackBerry, and others have seen their former dominance wane. Google and even Facebook have tried their own handsets, and largely failed. What makes Amazon think it can do any better?
For one thing, the company has a long history of entering and disrupting markets. And, as in the past, its strategy is likely to be quite different from those of its rivals.
What to look for
3D graphics: Amazon's phone reportedly features a novel 3D interface, which works without glasses. It uses infrared cameras to track your face and adjust its display accordingly, Businessweek's Brad Stone writes, adding: "A gesture-control feature will allow owners to operate the phone and play games without having to touch the screen." This could either be gimmicky or cool—we'll have to try it, and see if developers care enough to make great apps for it. Other phones have tried 3D, but none has been useful or impressive enough to catch on.
Pricing: Amazon is working exclusively with AT&T for its phone in the US, the Wall Street Journal reports. The big question is whether Amazon will do anything disruptive with smartphone pricing, either by selling the phone itself very inexpensively or by somehow slashing its service fees. AT&T has been less aggressive with its pricing than, say, T-Mobile or Sprint, so it's tough to imagine an agreement that makes Amazon phones much cheaper than others that AT&T offers. But Amazon has other levers to pull, such as the discount it already offers if Kindle buyers agree to view ads on their lock screens. Either way, pricing is key.
Search and browsing: One of Amazon's big opportunities here is to drive more mobile commerce, particularly to Amazon.com itself. Will there be 3D models of products on the shopping site? Will the Silk web browser, developed originally for the Kindle Fire, include any special search tools for Amazon products?
Why it matters
The company has already found success using its massive traffic to push its own products like Kindle e-readers, Kindle Fire tablets, and the Fire TV streaming media player, which is currently Amazon's no. 3 best-selling electronics device. Considering smartphone wholesale prices are in the $500-$800 range, with any decent success, Amazon could quickly build a multi-billion-dollar phone business.
But making inroads will be hard. About 168 million people owned smartphones in the US at the end of April, up 21% year-over-year, according to comScore. The good news: That's millions of people shopping for phones every month as their contracts expire. The bad news: iOS and Android's dominance is only growing.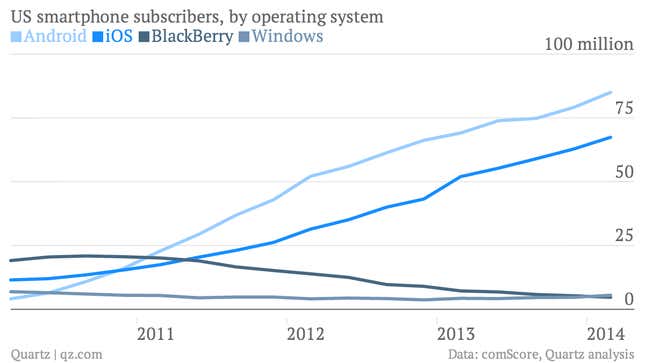 Amazon's biggest asset here is Amazon itself. About 122 million people in the US visited Amazon.com last month, according to comScore. That's a lot of people to show off a phone to.
And Amazon may already be selling a decent number of other companies' mobile phones. While carriers still dominate phone distribution in the US, 7% of survey respondents—US consumers who activated a phone in the first quarter of 2014—said they bought their phone on Amazon, according to Consumer Intelligence Research Partners. It's a start.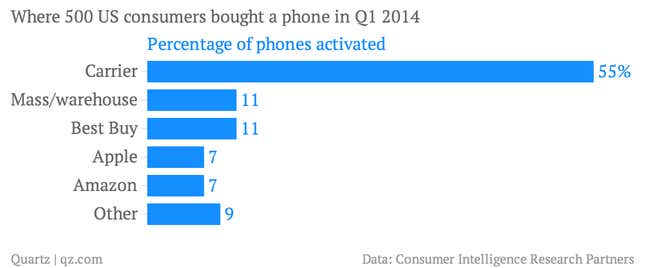 Today, Amazon's most popular contract phones are mostly made by Samsung. If the phone it unveils tomorrow is a good one—or is priced aggressively—that could soon change.