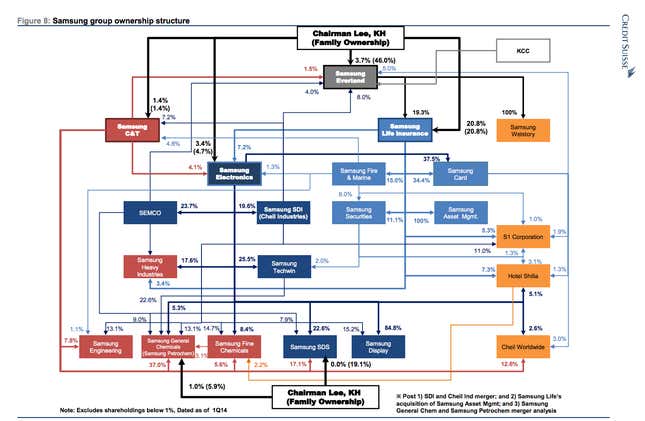 Thanks to its ubiquitous mobile products, Samsung may now be the best-known of the chaebols, the sprawling family-run conglomerates—including Hyundai and LG—that have dominated South Korea's economy for decades. Founded as a simple trading firm under the Japanese occupation by Lee Byung-Chull in 1938, the Samsung corporate family, which is still controlled by his heirs, now includes:
Samsung Life Insurance
Samsung Fire & Marine Insurance (Corporate insurance)
Samsung Securities (Financial services)
Samsung Card (Credit card)
Samsung Electro-Mechanics (Electronic components)
Samsung Everland (Amusement parks)
Samsung SDS (Information and consulting)
Samsung Asset Management
Samsung C&T (Engineering and construction)
Samsung SDI  (Lithium batteries)
And that is just a partial list. It goes on.
Still, news this month that Samsung Everland was planning for an IPO raised eyebrows. While the amusement park unit isn't the best-known part of the Samsung empire, it does play a crucial role in the elaborate system of circular ownership that the Lee family uses to maintain control over the chaebol.
In a recent note, Credit Suisse analysts do their best to lay out how it works:
The ownership structure of the whole Samsung group is extremely complicated with some circulars within the affiliates. The chairman and family effectively control the group through their key five holdings in Samsung Everland, Samsung Life, Samsung C&T and Samsung Electronics. The de facto holding company of Samsung group is Samsung Everland, which owns Samsung Life and Samsung Electronics.
The sale of Everland is seen as a first step to a Samsung ownership structure revamp, after current family patriarch, Samsung Electronics chairman Lee Kun-Hee, was hospitalized last month after suffering a heart attack.