The last time Foxconn's share price hit this level was in early 2010, around when Steve Jobs took the stage in January to announce the very first iPad (which shipped a few months later, in April). Foxconn—listed as Hon Hai Precision Industry on the Taiwan stock exchange—manufactures the majority of Apple's electronics in China. Back in early 2010, people suspected Apple was on the verge of releasing a tablet computer of some sort, but Apple was a tighter ship those days, with fewer leaks. Still, there seemed enough believable rumor at the time to drive up the value of Foxconn's stock: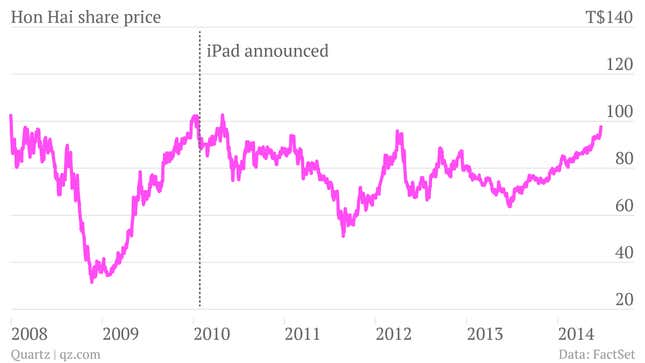 The market may again be telegraphing the impending release of a blockbuster new Apple product—or, at least, the market's hope for one. A larger iPhone, widely believed to come in 4.7-inch and 5.5-inch sizes, is all but confirmed. And speculation is rife (paywall) that Apple will also announce some sort of wearable device—an iWatch?—at its September event, which is when the company traditionally reveals new products.
A wearable from Apple will decisively push the company into a new product category, something Apple-watchers have long demanded. And a larger iPhone would arguably be a new kind of product too. Though it's still basically just a phone, it will see Apple enter the "phablet" market, which is growing fast in Asia and which Quartz has long argued would be in the company's best interests.