Cocoa prices spiked to $3,118 per tonne ($3,437 per ton) last week—their highest point since 2011. As Quartz has reported, a growing taste for dark chocolate (which requires a higher concentration of cocoa) and China's swelling appetite for chocolate are driving up cocoa's price. Chocolate producers fear that a cocoa deficit may be in our future.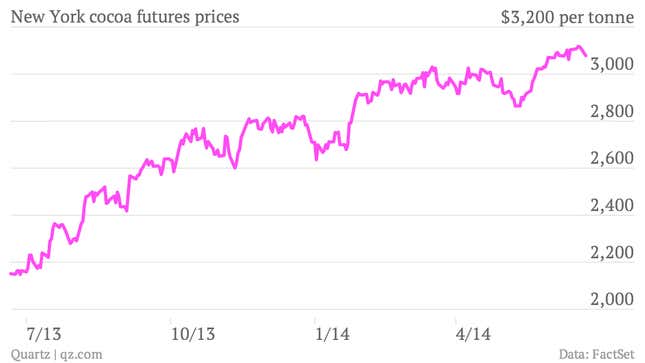 Between poor weather in the Ivory Coast and the elimination of a fertilizer subsidy in Ghana, outputs are down. And despite climbing prices, cocoa still offers iffy incentives for farmers. According to the Financial Times, farmers see just 3% of the value of a chocolate bar; retailers and marketers reap more than half, and the rest goes to buyers, taxes, transport, storage, processors, and manufacturers.
What's more, cocoa offers the lowest returns of a handful of commodities that grow in similar climates, such as coffee, sugar, and palm oil.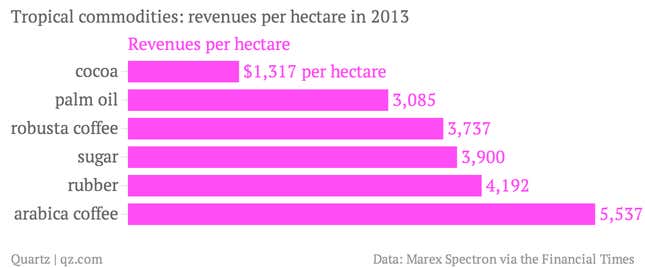 The industry is ripe for a shift, and stakeholders are starting to take action. Several agricultural companies funded a research report that painted a picture of confectionary giants such as Nestle and Cadbury reliant on an archaic supply chain of vulnerable small-scale farmers. The Financial Times reported that six "agro-industrial upstream production projects" are already underway.
"Agro-industrial" may be hard to imagine for a crop that grows in the understory of tropical forests. But perhaps these will be large-scale versions of programs like those that the Rainforest Alliance, a nonprofit, have implemented—providing farmers with loans, seedlings, and training.
Where there's a will, after all, there's a way. And a $117-billion market says that the will to eat chocolate is very, very strong.