This item has been corrected.
6Wunderkinder is built on the philosophy of GTD: Getting Things Done.
The company is founded on the belief that we need to free our minds of all distractions, no matter how minor. The philosophy, originally made popular by productivity guru David Allen, attracted a cult following and influenced the design of several productivity tools today, including 6Wunderkinder's app Wunderlist.
"What we've figured out is the only key for becoming really productive is simplicity and focus," says CEO Christian Reber, who co-founded the Berlin-based company in 2011 with five other people. His team came up with the idea while they were working at the digital design agency they'd founded and couldn't find a project management tool that they liked.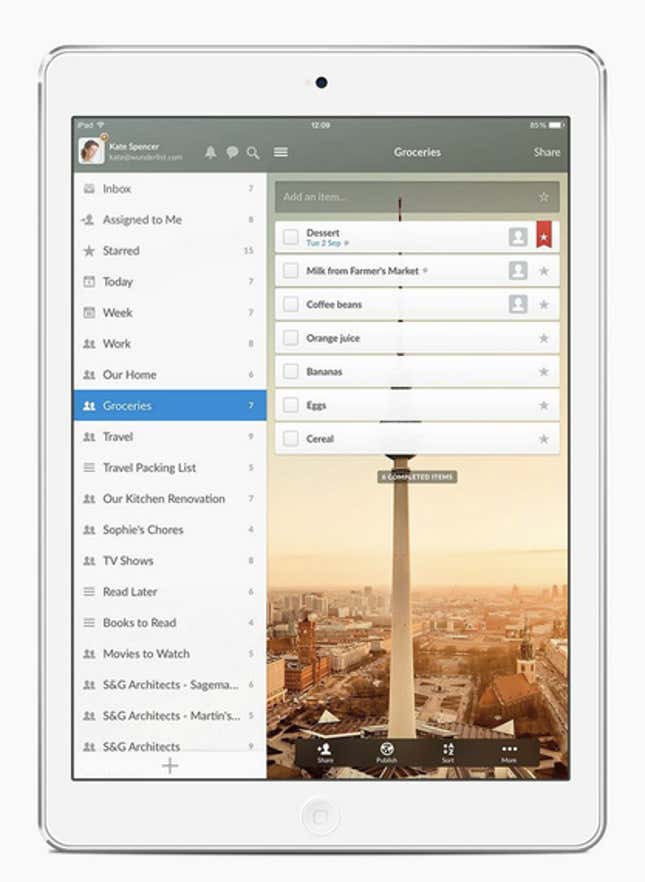 They've integrated the GTD ethos into their product, which at its core is a system where users write down tasks and cross them off as they go. "You don't have to think about the context of your ideas, just write them in," he says. "That frees your memory which is very rewarding." Wunderlist uses a freemium model and offers additional features for $4.99 a month or $49.99 a year with Wunderlist Pro for Business.
What differentiates Wunderlist from the many other productivity apps is its design and cloud-based flexibility. The platform is structured so that users can click onto any number of separate lists (work, private, etc.) and add tasks, subtasks, due dates, reminders, files and notes. It syncs on Windows and iOS, and Android devices.
A 65-person team is currently focused on pushing out its 3rd major product release this month, which involves a complete re-engineering and redesign of the platform. With the upgrade, Wunderlist 3 will look more like a fusion of a task manager with social sites like Twitter and Facebook because of its new notifications system and messaging features, which doesn't make it quite as minimalist as it once was.
But there's a lot of pressure to stand out. It's competing in a productivity app market that grew by 150% last year with no clear winner yet.
Wunderlist has grown from 6 to 8 million downloads in the past year (though Reber won't disclose the number of active users). The company attracted $19 million in investment led by Sequoia Capital in late 2013. "We see it [Wunderlist] as the third leg of the stool of a series investments we've made in cloud based productivity operations," Sequoia Chairman Michael Moritz told Forbes, citing previous investments in Dropbox and Evernote. "Wunderlist is obviously tackling personal organization compared to file syncing or note taking and it's a different application, and one where the ceiling is very high."
While modern productivity hacks are designed to help us operate more like seamless iOS operating systems, it's important that its hackers understand precisely what makes us human. Reber says, "As human beings we all lose focus and in turn become less productive when we are stressed. The feeling that something is 'fun' to do reduces stress and creates motivation, and priorities create focus. In our team we have the saying, 'fun isn't the enemy of work.'"
Correction: A previous version of this article stated that Wunderlist had offices in China, India, and Israel. Its only office is in Berlin.