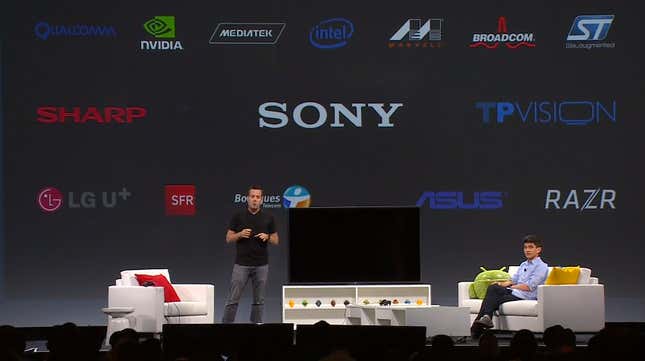 Google unveiled its new Android TV platform today at the I/O conference in San Francisco. It's Google's second take on a smart TV operating system, after its cumbersome Google TV platform, which debuted in 2010, never took off.
Google's presentation included a matrix of television, chip, and distribution partners, including Sony, LG, Asus, and Intel—previous Google TV partners—and others, such as Sharp. Notably missing: Samsung, which is not only the world's top TV maker—commanding about a quarter of the nascent smart TV market—but also Google's biggest Android partner for phones. Samsung represented more than half of Google's 759 million Android phone sales last year, according to Gartner.
It's not that surprising. Samsung has put the most effort of any TV maker so far in making its own smart TV platform, and likely has no interest in sharing its control with Google.
Meanwhile, the first sentence of Brad Stone's recent Businessweek profile of Google executive Sundar Pichai starts a story about how a Samsung announcement at the CES conference in January "enraged executives as Google." The companies say they have patched things up: "We now work together more closely on user experience than we ever have before," Pichai says in the piece. But it's safe to assume Samsung's relationship with Google will at least remain complicated.
That's not to say Samsung would never release an Android TV: It is known for trying multiple software platforms in mobile, including Android, Microsoft's Windows Phone, and its own Bada platform. If Android TV becomes a must-have product, Samsung could sell them. But it has little to lose by waiting.