Alibaba may be in the midst of a multi-billion-dollar acquisition binge and on the verge of a blockbuster IPO, but a look at China's most-used mobile apps shows that archrival Tencent has the edge in the world's largest smartphone market: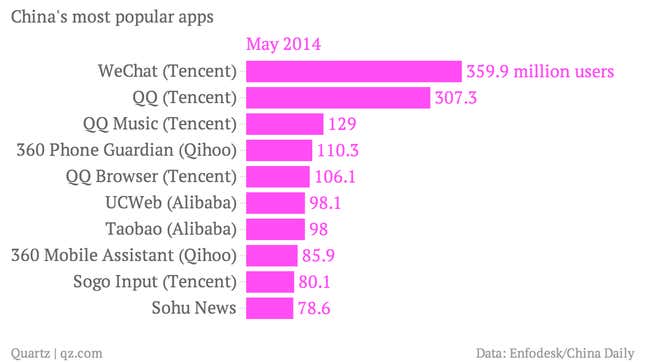 The data compiled by research firm Enfodesk shows the dominance of Tencent's flagship WeChat app, which began as a simple messaging service but has grown into an all-encompassing e-commerce platform that offers everything from booking taxis to providing financial services. Not far behind is Tencent's simpler QQ messaging app and a QQ-branded music service and web browser.
Alibaba's UCWeb browser and the app for its flagship Taobao e-commerce site are quite a ways behind, with less than 100 million users each.
Missing entirely from the list of top apps are offerings from internet giant Baidu, which has struggled to make the transition from desktop to mobile. But Baidu does have one edge—its search engine is the primary means for mobile users to find apps in the first place, making Baidu the country's dominant app source. (China's smartphone market is more than 90% Android, but Google's app store is blocked by the government, leaving it up to third parties to offer downloads.)