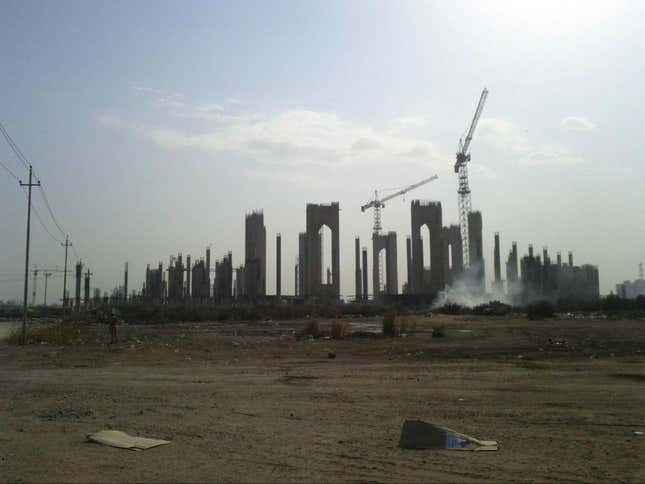 As an insurgency threatens to drag Iraq back into sectarian civil war, plans are still underway to build a vast new $1-billion parliamentary complex in Baghdad. The well-known London-based, Iraqi-born architect Zaha Hadid has been tapped to design a 2.7-million-square-foot building on the 49-acre site, even though her proposal—which remains secret—came in third in the international architecture competition.
The secretary general of Iraq's parliament, Ayad Namik Majid, told the Architects' Journal that the insurgency had caused "no problems" (paywall) to plans for the complex, despite the fact that many other major developments across the country—including hospitals in Basra, a master plan in Najaf, and an oncology center and a library in the capital—have been put on hold. The site of the future parliamentary complex is near the abandoned Al Muthana airport, and it still has the remains of a colossal mosque that was being constructed at the time of the 2003 US invasion.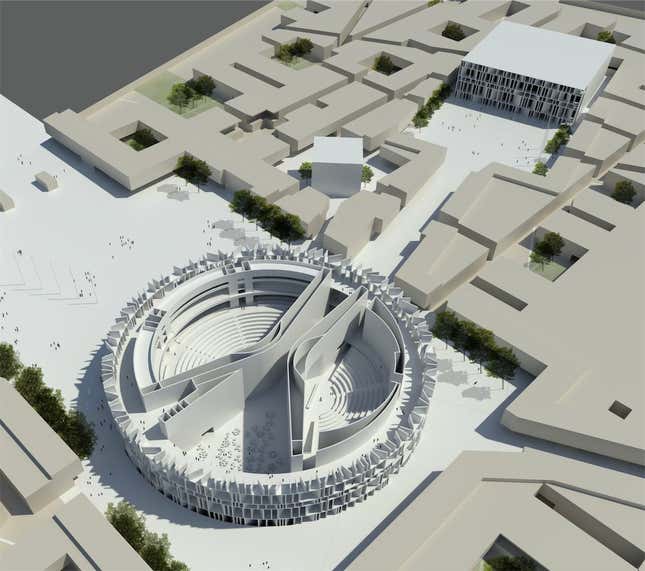 Assemblage, the British architecture firm that won the competition (and collected its $250,000 prize) in 2012, almost immediately faced a challenge from Hadid's office. Even though Assemblage's urban scheme was chosen by the Royal Institute of British Architects jury, the Iraqi Parliament was not bound by that decision, and unconfirmed reports last November said the project had gone to Hadid. That decision was made official last month at a signing ceremony at the Iraqi embassy in London.
Hadid, who won the 2004 Pritzker Prize, is one of the biggest architecture stars in the world—she's often referred to by her first name—and commands huge fees for her sculptural, computer-driven forms. (Sources close to Hadid's office said that, in light of the chaos in Iraq, it is lowering its design fee from £46 million, [$78 million] to £30 million [$51 million].) She's already designing the headquarters of the Central Bank of Iraq. But Hadid has caught flack in recent months for her muted response to the deaths of hundreds of migrant construction workers building the stadium she designed for the 2022 World Cup in Qatar. "I have nothing to do with the workers," she said in February. "It's not my duty as an architect to look at it." And though her proposal for the Iraqi Parliament hasn't been released publicly, one juror who has seen it described it as "very convoluted."
Beyond the choice of Hadid, the entire process has been faulted for its opacity. Assemblage's director, Peter Besley, said, "We have never been officially told we were not getting the commission. Like many things in Iraq, they start off on the right foot but don't carry it with the transparency that's required."
Ihsan Fethi, a leading Iraqi architecture critic, complained that even the plans themselves have remained under wraps: "Of course this is contrary to the principle of transparency and it is absolutely unacceptable for us Iraqi architects, or any Iraqi citizen to that matter, to be prevented from seeing what their Parliament would look like. We absolutely have no idea."