Disney heroines are so popular that parents name their children after them. A report out of Britain found that since the release of last year's Disney blockbuster Frozen, the name Elsa—the film's empowered ice queen—has jumped 243 spots in girls' name rankings there.
This isn't new, apparently: Quartz has found big historical spikes in the numbers of girls that share a name with Disney heroines right after a new film is released.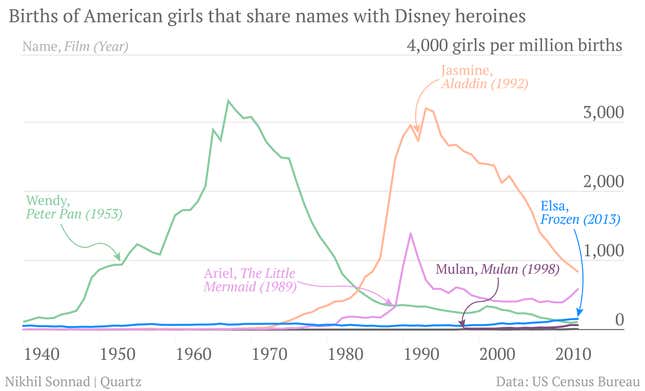 That chart—which uses United States Census Bureau data on all girls' names for which there are more than five births in a given year—includes heroines with relatively uncommon names and from films that were very successful. Wendy skyrockets from 938 girls per million births before the 1953 release of Peter Pan, doubling to over 1,800 over the next decade and continuing to 3,300 in 1967. There weren't five girls in the country called Mulan in any year before the film of the same name was released in 1998, after which it started accounting for four and eventually seven of every million births. Another big spike happens for Ariel directly after The Little Mermaid.
The trend for Jasmine makes something else clear: When Disney names its own characters instead of adopting the names from folk tales its films are often based on, it appears to select names that have recently become much more popular. Ariel and Jasmine, which aren't the original names for their respective characters, were clearly on the way up before Disney chose to use them. Elsa was already edging upward before Frozen came out.
The apparent post-Disney growth can't overcome a long-term trend towards more diversity in baby naming. Alice continued to fall fast after being the 15th most-common girls' name throughout the 1920s, despite the film Alice in Wonderland coming out in 1953. That's because the total number of names with five or more girls went from around 2,000 in 1900 to over 19,000 in 2013.
Naming trends are unpredictable, as is apparent from seemingly random movements for all kinds of names. (One example is how Hannah exploded in the 1970s.) But the Disney boost looks real, and a similar phenomenon might even extend to other popular films and TV shows that have unique character names, like Game of Thrones.
In short, daycares across America will probably be full of little Elsas in just a few years.