This item has been corrected and updated. 
Costa Rica's incredible run at the World Cup this year has surprised just about everyone.
Even the country's own president didn't really expect the national soccer team to escape the "group of champions" the country was drawn in, which featured three former tournament winners: Italy, England, and Uruguay.
Not only did it achieve that, but it did so in style. The small Central American nation remains undefeated and pulled off a hard-fought victory again in today's match against Greece. Even if it doesn't advance further, the 2014 World Cup will be considered a success for the country.
But as Bloomberg pointed out earlier this month, Costa Rica's currency, the colon, is the second-worst performing Latin American currency against the US dollar this year, after the Argentine peso. The colon has fallen by about 9% against the greenback so far this year: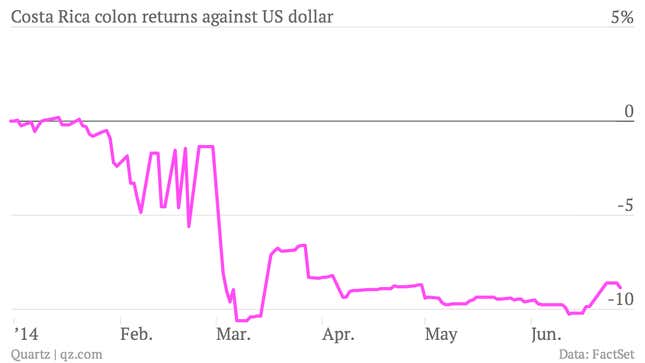 It's partially a deliberate strategy. "There's no way we could keep the colon strong," president Luis Guillermo Solis told Bloomberg. "Exporters and tourism investors were going crazy."
Costa Rica is trying to diversify out of tourism and agriculture by attracting foreign multinationals, particularly in technology, to set up shop in the Central America. Earlier this year, it suffered a setback when chip giant Intel said it would close a plant in the country, costing 1,500 jobs. Shortly after, Bank of America also said it was downsizing in the country. These decisions prompted economists at Citi to slash their growth forecast for the country in half, which Costa Rica's central bank disputes (naturally).
At any rate, the most significant economic effect of Costa Rica's World Cup success might not be within its borders. Its shock victory over four-time champions Italy indirectly eliminated soccer-obsessed England from the tournament. Economists think that this could have a significant impact (paywall) on UK consumer spending.
Correction (June 26): An earlier version of this post erroneously described Costa Rica as an island nation.