The news that JPMorgan Chase boss Jamie Dimon has been diagnosed with cancer of the throat has thrown a spotlight on the management bench at the largest bank in the US by assets. According to the internal memo that announced the news, the cancer was caught early and is curable. Here's what Dimon, 58, said:
I wanted to let you know that I have just been diagnosed with throat cancer. The good news is that the prognosis from my doctors is excellent, the cancer was caught quickly, and my condition is curable. Following thorough tests that included a CAT scan, PET scan and a biopsy, the cancer is confined to the original site and the adjacent lymph nodes on the right side of my neck. Importantly, there is no evidence of cancer elsewhere in my body.
Dimon is perhaps best known for helping JPMorgan nimbly navigate the 2008 financial crisis. And despite some major flubs in recent years, including the "London Whale" trading scandal that saw the firm lose more than $6 billion, Dimon—and his sometimes brash style—has come to define the sprawling financial institution.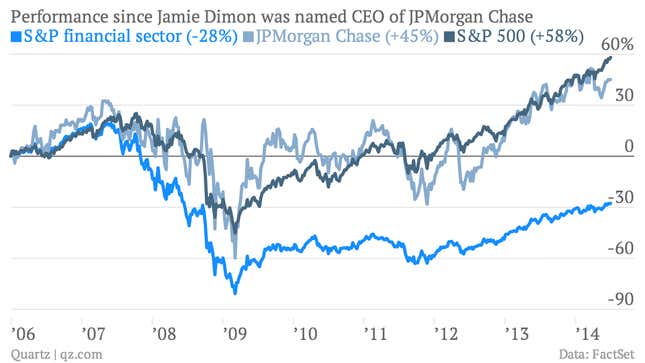 Dimon is expected to work through cancer treatments starting soon at Memorial Sloan Kettering's cancer treatment center in New York. JPMorgan is slated to report second-quarter earnings on July 15 and Dimon is expected to be on the conference call as usual (although obviously his plans could change). And while Dimon is expected to stay active during his treatments over the next several weeks, he has cancelled some scheduled engagements, including a trip to Europe. He also may extend his usual three-week August vacation, a person familiar with the matter said.
But should Dimon's health prompt him to take a less active role with the bank, there are several executives prepared to step in.