We'll give you the bottom line on the top line: All signs suggest the US job-creation machine was humming in June.
The consensus expectation among Wall Street economists is that the US Bureau of Labor Statistics (BLS) will report that 215,000 jobs were created during the month, which would make the fifth straight month of job growth above 200,000. Here's why everyone is so optimistic.
Initial jobless claims
The weekly tally of applications for unemployment benefits that the BLS puts out has been fluttering along at some of the lowest levels since the financial crisis hit, which is widely seen as a sign of robust job creation. Importantly the reading was quite low during the week of June 13, when much of the survey activity used to compile the jobs report occurs.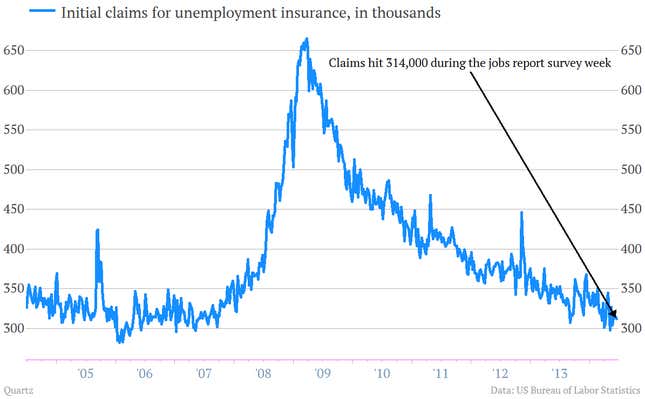 Manufacturing employment
The ISM gauge of factory employment stayed above 50, the line that separates expansion from contraction. That indicates ongoing job growth in the cyclical industrial sector, which is watched as proxy for the broader economy.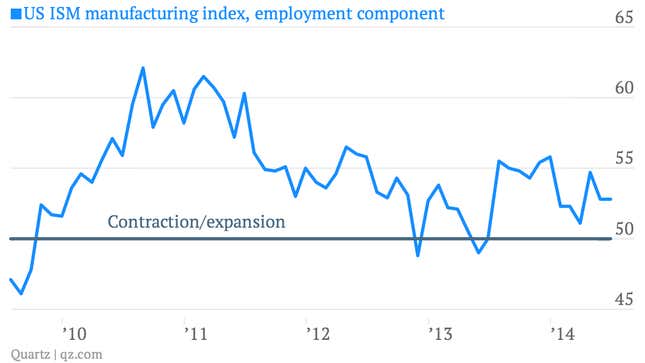 Private sector surge
The payroll-processing company ADP's monthly report on private sector job creation showed the strongest pace of new employment seen since November 2012.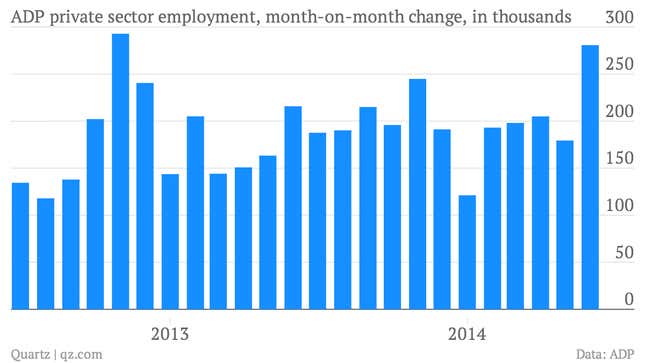 Online job ads
The private research group known as the Conference Board has seen a fresh surge in its tally of new online job advertisements, a good sign of increased labor demand.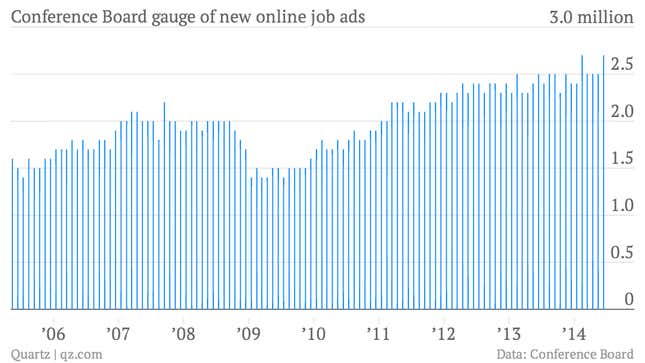 Small Business Rebound
Plans for hiring among small business people rebounded sharply in June, amidst a general uptick in small business optimism.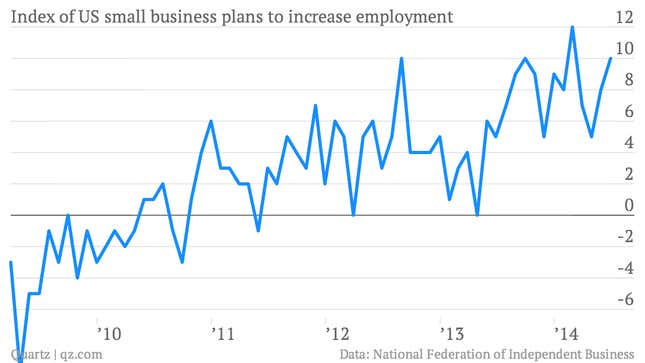 Jobs Differential
The jobs differential is basically the difference between the number of people who said jobs were "hard to get" and those who said jobs were "plentiful" in a monthly consumer sentiment survey conducted the Conference Board. It's considered a pretty good indicator of the job market's health. The reading has been falling—a good sign—pretty steadily for months, and in February it dropped below 20 for the first time since the collapse of Lehman brothers in 2008. In June it fell to 17.1, the lowest reading since the financial crisis hit. This is an indication that job creation has been so robust that actual Americans are starting to notice. (Although it's worth noting that Americans still feel jobs are about as hard to get as during the worst of the "jobless expansion" of the early 2000s.)