Some of the world's biggest consultants, PR firms and accountants, as well as a handful of boutique banks, are competing for a tough assignment that's only gotten harder in recent weeks: Running the sale of a minority stake in Pakistan's money-hemorrhaging state airline, Pakistan International Airlines.
PIA, as the airline is known, dates back to the creation of Pakistan itself, when it was formed at the urging of country founder Mohammad Ali Jinnah. For most of the last decade, though, it has been losing money, thanks to combination of mismanagement, political turmoil, and general economic woes. Pakistan agreed to sell off 26% of the airline last year, as one of many conditions attached to loan of nearly $7 billion from International Monetary Fund.
Now five consortia are vying to run the PIA sale. The list of players includes more than two dozen different advisers, including Ernst & Young, McKinsey, Deloitte & Touche, Apco, Freshfields, Jefferies, and Rothschild  (a full breakdown of the five groups was reported by Pakistan's Express Tribune earlier this week).
The winning group is tasked with finding a strategic partner that can take managerial control—in other words, turn around an airline that has been run into the ground. They may have a tough time—PIA's losses are getting progressively worse: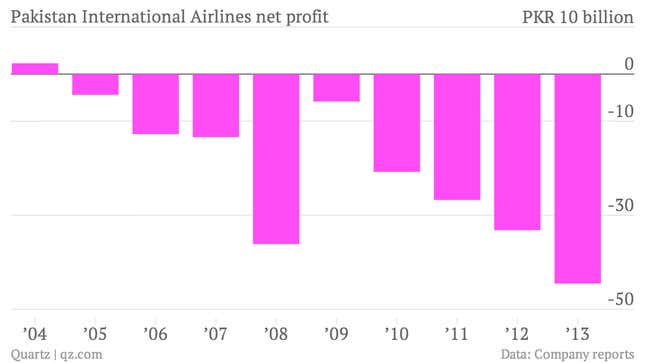 Losses have been mounting in part because of the challenging "law and order" situation in the country, PIA said in its 2013 annual report. What's more, because it cannot afford to buy new aircraft, the number of flights are dropping: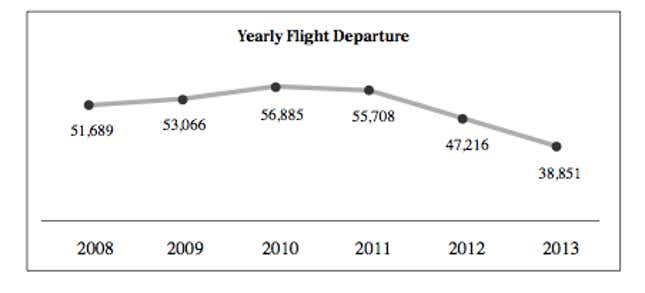 PIA downsized its business again significantly in early June, cutting 26 foreign and domestic flights a day because it did not have enough planes to service them.
As if the business challenges weren't difficult enough, there has been a recent surge in violence at Pakistan's airports. Pakistan's Taliban staged two attacks in early June on Karachi airport, killing several people. On June 24, a PIA aircraft was hit by gunfire as it was landing in Peshawar, killing one. Because of the attacks, several airlines that had pledged to lend PIA planes—which could have helped it restore the routes it trimmed—have rescinded the offer, Dawn reported today.
Still, managing PIA the stake sale may be attractive to the banks and accounting firms because Pakistan is planning to privatize billions of dollars worth of state-owned assets, including oil and gas companies, power companies and banks in the coming months. The country hopes to raise as much as $4 billion from privatizing state assets in the fiscal year that started July 1, despite recent aggressive attacks by the Taliban.
The consortium that can sell off a stake in money-losing PIA in this challenging environment stands to win a lot more of that business.