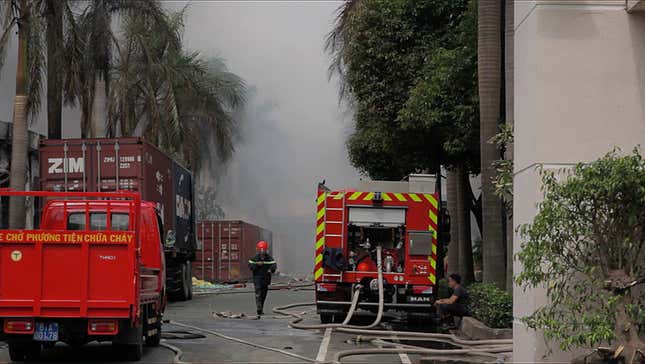 The violent Vietnamese riots against foreign-owned factories in May took a heavy toll in life and property and threatened the country's massive influx of foreign investment. But they don't seem to have cooled the enthusiasm of Samsung, one of the Vietnam's biggest foreign employers, which just received the go-ahead for a new $1 billion factory complex.
China's provocative moves to claim disputed territory in the South China Sea in May prompted a Vietnamese mob to torch dozens of factories—most them unaffiliated with mainland China, but instead owned by companies from Singapore, Taiwan, and South Korea. Samsung, which has several large factory complexes in Vietnam to take advantage of the country's low labor costs, was unaffected by the May riots, but it is no stranger to violent labor incidents there.
In January, police were called in and 15 people were injured after hundreds of construction workers clashed with security guards at a Samsung smartphone factory in the northern province of Thai Nguyen. The fight was allegedly triggered either by a dispute over whether a worker could bring in their own meals, or over a employee who was late to work. In either case it resulted in guards beating a man unconscious with clubs, according to local media reports, and workers throwing bricks and stones, and setting shipping containers on fire.
The Samsung factory that was approved by Vietnamese officials this week will build high-resolution displays for smartphones and other mobile devices, and will employ a projected 8,000 people in the northern province of Bac Ninh, where Samsung also operates a large mobile phone assembly plant.