King Digital Entertainment—the company behind the addictive and hugely popular Candy Crush Saga smartphone game—was viewed with skepticism by some observers when it went public in March.
For many, King's IPO, which raised $500 million and valued the company at more than $7 billion, was emblematic of bubbling euphoria among investors for fast growing, tech-related companies. And sure enough, the stock tanked 16% on its first day of trading and then steadily sank lower for the next month or so, as the euphoria subsided for tech stocks in general.
But King has since then quietly staged a recovery, and today is on track to close above its IPO price of $22.50 for the first time since listing. Since its IPO, it has outperformed other victims of the 2014 tech selloff such as Twitter, Amazon, Facebook, and Pandora, as well as rivals in mobile gaming such as the beleaguered Zynga, maker of Words With Friends and Farmville.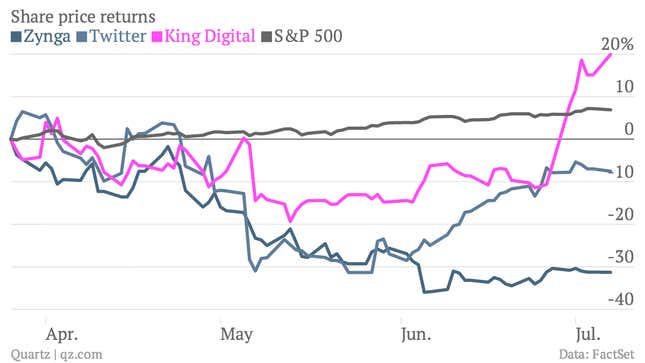 King is relatively unique among recent tech IPOs in that it was highly profitable at the time of its listing. What worried investors was that its profits might not be sustainable: Candy Crush was the kind of one-off, viral hit that would be nearly impossible to replicate.
Now those worries are dissipating. "We believe it is becoming increasingly clear that King is successfully diversifying beyond Candy Crush," writes Piper Jaffray's Michael Olson in a note to clients this morning. The company last month released "Bubble Witch Saga 2", an updated version of one of its original breakout hits, refreshed and optimized for mobile devices. The title has quickly climbed into the top 20 grossing iPhone games, giving Olson confidence "the company has created a formula for successful new and follow on game launches."
King's games are free and it doesn't even sell in-game advertising anymore; it makes its money by selling boosters to users who get stuck and want to unlock later levels.  The company also recently struck a partnership deal with China's Tencent (the owner of the fast-growing WeChat messaging platform) to distribute its games in the world's most populous nation, where there are more than twice as many mobile users as in the US.
It's still early days and there are plenty of question marks hanging over King's future. Its games are quite simple in nature—Candy Crush involves matching similar pieces of candy, not that conceptually different to the classic hit Tetris—and theoretically should be not that difficult to copy. A lot of investors are betting against further share prices rises; the company is in an industry where things can change rapidly, and this is not the first time it  has overcome threats to its existence. But for now at least, investors seem more excited by its strong foothold in the absolutely booming business of gaming on mobile devices.