Marc Andreessen—co-founder of Netscape, now a venture capitalist at Andreessen Horowitz—officially registered his @pmarca Twitter account more than seven years ago, on May 10, 2007. But after posting one tweet—"Twittering!"—and a second in 2011, Andreessen only started tweeting in earnest this year, on Jan. 1, at 12:01am Pacific time. "Hello? Hello? Is this thing on?" And then he was hooked, sending 10 more tweets over the next 90 minutes.
During the first six months of 2014, Andreessen tweeted 21,783 times—more than any of Twitter's founders have posted since its creation, and an average of five tweets per hour, every hour. Quartz has analyzed the full @pmarca Twitter archive—provided by Andreessen—and has extracted the following data and observations. (We've focused on Jan. 1 through Jun. 30, 2014, Pacific time.)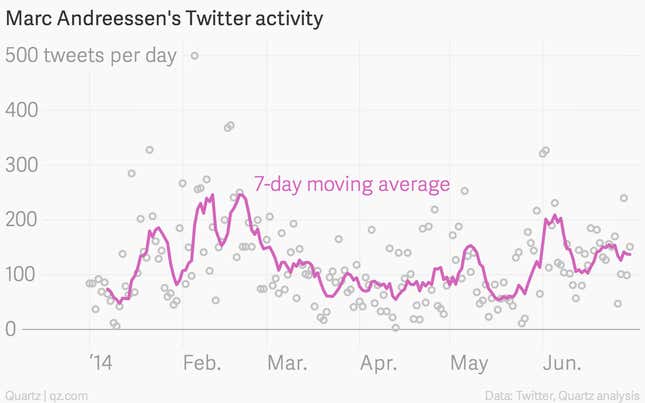 Most days, Andreessen tweets between 50 and 200 times, with an average of 120 tweets per day. He has sent more than 200 tweets on 23 days, and his biggest day was Feb. 5, when he tweeted 500 times, including a lengthy discussion about the future of the news business. He often tweets about tech, finance, and education, but his most popular tweet so far (via FavStar) bridges all three.
Andreessen is remarkably personable on Twitter. Almost 13,000 of his tweets—about 60%—are "replies" to other Twitter users. (He has attracted 133,000 followers and now follows 3,800 accounts.) He has also replied to about 3,800 unique Twitter IDs. Frequent targets include Benedict Evans, his colleague at Andreessen Horowitz; Antonis Polemitis, another venture capitalist; and an account called @abenomixx, belonging to a self-professed "math dork in media finance." Andreessen has also replied to his own account 3,400 times, which serves to visually link multiple tweets together.
Unleashing the Tweetstorm™. Andreessen has created an entire Twitter genre during his short time on the service—the Tweetstorm, a series of numbered tweets on a common topic. Twitter users have been sending multi-part messages for years—a hack to get around Twitter's 140-character limit—but Andreessen has impressively popularized it, standardizing a 1/ 2/ 3/ labeling convention and even inspiring a web tool for publishing them. Through June, Andreessen has sent 90 tweets starting with 1/, and 50 starting with 10/. That's a Tweetstorm verging on blog-post length.
Andreessen links and quotes. Nearly 3,700 of his tweets include links. His most-linked sites include Twitter itself (linking to other tweets), the New York Times (almost 200 times), the Wall Street Journal, various Andreessen Horowitz-related sites, TechCrunch, and Amazon. (He has linked to Quartz 18 times.) Almost 300 of his tweets are quotes beginning with quotation marks. About 3,900 are retweets.
Desktop first. Around 84% of Andreessen's tweets were sent via Twitter's web client. Seven percent were sent via TweetDeck, six percent via Twitter for iPhone.
Tweeting all the time. We don't know Andreessen's location when he's sending each tweet—he doesn't expose that information via Twitter. But assuming he's home in California most of the time, we can gather a sense of Andreessen's most "productive" hours: between 2 and 4pm. and 9 and 11pm.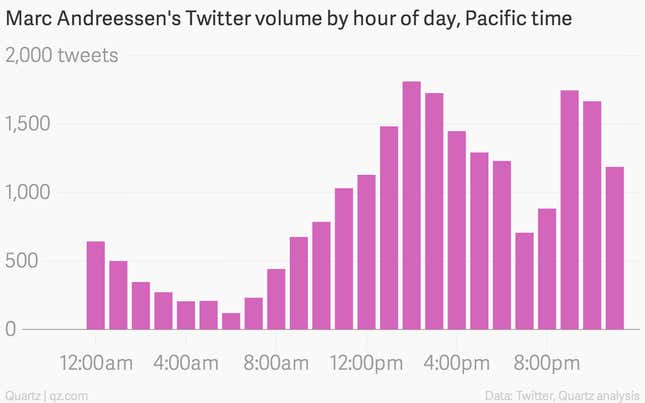 Why and how? You'd think that Andreessen has more important work to do for his day job than tweeting every few minutes. (A colleague confirms that it's Marc doing the tweeting—not a social-media assistant or intern.) But Andreessen says it's actually very important in his profession today to have a big Twitter following: "It's a great way to explain what we're doing, how we think about things, and to respond to issues and questions." He adds, with a smiley-face emoticon, a secondary, personal reason: "I love arguing."
For the record, Andreessen was an early investor in Twitter—he says he has never sold a share—though his firm also invested in its rival Facebook, where he's on the board of directors.