Recently, my 10-year-old son has been telling everyone that he's dyslexic. He does this because he knows that sometimes it can help adults understand him better. His intelligence in science and math is quite evident, so when he shows poor performance in reading, writing, spelling, or speaking, people—even special education teachers—mistakenly think he is just not putting in the effort.
How could a boy who loves chemistry, foreign languages, engineering, design, and programming fully appreciate these subjects if his reading is so poor? If you think that it's impossible then I'll be the first to agree with you. Almost always, especially at school, higher level information is provided by written text only. Anything worth learning would eventually become inaccessible to my son because he'd have to read to know anything more. Then this year I discovered an app that blind and dyslexic users and their families consider an indispensable tool to getting information.
I was surprised to learn that the developer of the app never intended to help people like my son. Winston Chen is not dyslexic, nor does he have any family members who are. Yet he changed the lives of many dyslexic and blind children and adults after he quit his job as CTO of a big data company and moved his family from Boston to a tiny Norwegian island just north of the Artic circle.
In 2012, Chen decided to build a text-to-speech app that would allow people to read during times they normally couldn't, for instance while driving to work. Within a day of uploading the Voice Dream reader onto the Apple app store, he received an email from a high school math teacher who had a student whom he described as brilliant but had some sort of disability that required him to be read to out loud to. The teacher was grateful that the app gave the student his independence.
A different approach to reading
As a user myself and as a mother of a child with dyslexia, I am blown away by the features of Voice Dream. What is impressive is the way the app treats words: it  does not display text page by page like other readers. Rather, to help keep the reader on target, a cursor highlights each word, similarly to the way a karaoke machine highlights words in real time to help the singer stay in sync. The Voice Dream lets the reader choose the speed of reading, up to 700 words per minute. This feature instantly tells the reader know how long it would take to get through the whole book at constant speed. Here is what it looks like: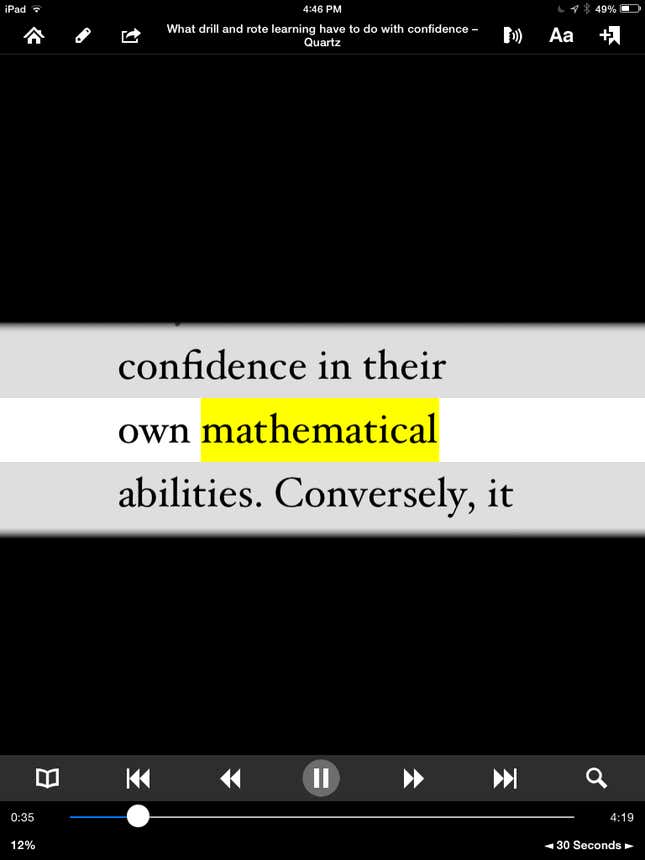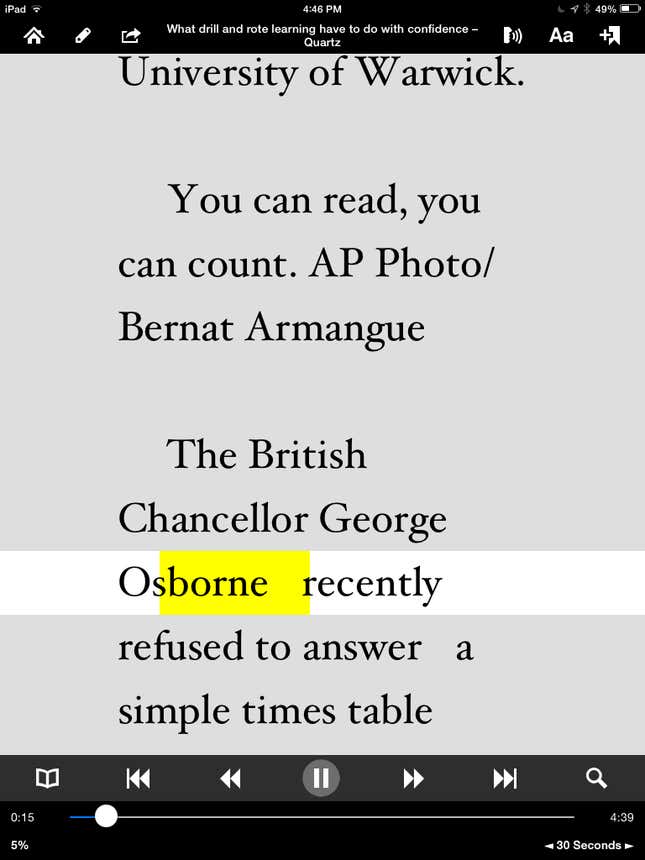 This is a gift to children like my son, who develop anxiety when they see too many words on a page and see no light at the end of the tunnel. Moreover, the app doesn't just read books, it reads webpages and can read any homework scanned as a pdf. The app can store all of my son's work on Google Drive, Evernote, or Dropbox. The only thing that disappoints my son is that he can't read the books we have on our e-readers because the books are protected under digital rights management and so the fluid experience that Voice Dream offers is off limits for the many e-books for which we've already purchased.
Although getting an iPad for a student may be costly, it is still less expensive than having a teacher or an assistant spend time doing something that a child can do independently with Voice Dream reader: students can fast forward, rewind, and replay the text as many times as needed without worrying about inconveniencing whoever is helping them.
More importantly, children can access text that is age-appropriate, and aren't left out because they can't read the Harry Potter series. My son is now reading, I survived: The bombing of Pearl Harbor, which his teacher did not let him read for the free reading period of the day because it was too advanced for him. Thanks to Bookshare, a free service that provides e-books to students with reading disabilities, he was able to download it and read it all within an hour.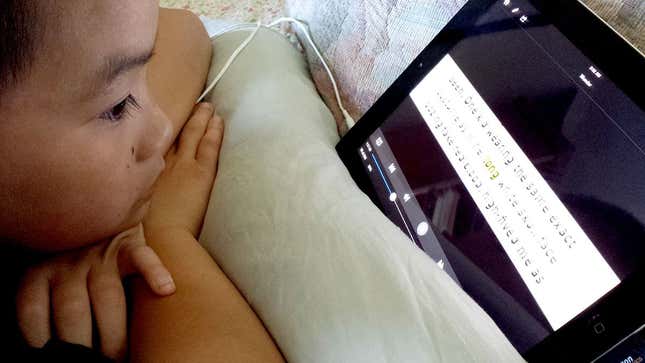 User-driven design
Since he launched Voice Dream, Chen has received about 10,000 emails of gratitude and with suggestions to improve the app. Chen says he's answered all of the customer emails personally: he became familiar with the user needs and was able to accommodate their suggestions.
Voice Dream now has 60,000 users and is one of the top 10 grossers among education apps in 86 countries including US, Canada, Germany, France, Spain, and China along with a top five position in the US. The reader comes with a default voice and is priced at $9.99. There are extra charges to buy additional voices, such as Queen Elizabeth and Chipmunk.
Here's a sample of what some of the voices sound like:
While there are other apps that provide text-to-speech features, users of Voice Dream who have tried many other tools are aware of its uniquely fluid user experience. One of these users is Matthew Schneps, the director of the Laboratory for Visual Learning, a research collaborative between Harvard Graduate School of Education and the University of Massachusetts, Boston. Schneps, who himself is dyslexic, notes, "Winston took our research on how people with dyslexia read very seriously."
Based on this research, Winston added to Voice Dream some features directly making reading easier by changing not only font sizing but font spacing, screen size and margins, and line spacing. "There are features in Voice Dream that don't exist in any other reading tool currently," Schneps told Quartz. "We're trying to get Kindle and iBooks and various other readers to put these features into their tools but Winston Chen was the first to do so."
Beyond school
Productivity and success wouldn't be limited to school alone. Today's workplace would stand to benefit greatly given that estimates show roughly one in 10 people have dyslexia. Schneps warned, "Those people, regardless of how much school they went to or whatever kind of special remediation that they had, they are going to have trouble reading things at work," Schneps says and clarified the difference further "it isn't just that the person reads slowly, it's that they read with a great deal of effort."
Many people do not understand the tremendous effort it takes for many people with dyslexia to read text, expecting that if they can read some, they will eventually be able to read like everyone else. Had this been a physical disability, results would likely be different: imagine telling someone with limb differences to just try running to the finish line without his prosthetic leg. Why would anyone subject someone to that if prosthetics can make things easier? Yet, this is the kind of knowledge and attitude that children like my son face everyday at school, because dyslexia is a rather invisible disability.
Very few teachers and administrators have exhibited encouragement to explore tools like the Voice Dream reader to help level the playing field for these children. I have seen my son avoid learning pursuits over and over again because higher level instruction is usually provided solely via written text. It's as if every door closes on him the minute things start to get interesting.
Thanks to Chen and the thousands of users who cared enough to help him make his app better, my son and countless other children and adults need not have the door closed on them anymore.