The World Cup is nothing if not an emotional roller coaster. After four weeks and 61 matches, we've seen everything from utter joy to complete disbelief. And yesterday's semifinal of Brazil vs. Germany may top the charts as one of the most emotional days in soccer history. The home team's crushing 7-1 defeat (with five goals in the first 30 minutes) makes one wonder: What does that feel like? Fortunately, some scientists have an answer, of sorts: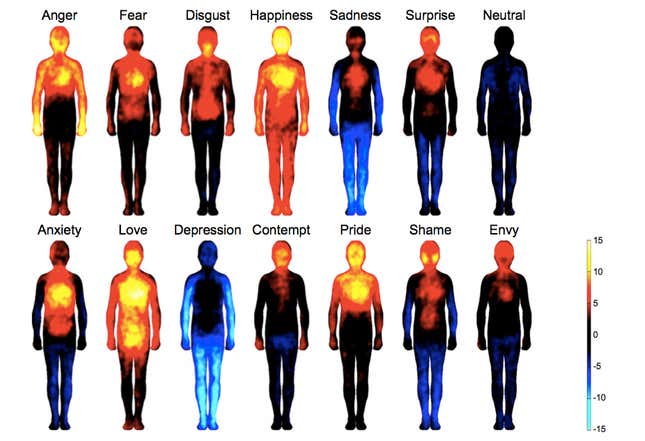 We know that different emotions can create a variety of physiological responses such as sweaty palms or flushed cheeks, but these bodily sensations aren't reliable indicators of specific emotions. So rather than measure these types of emotional reactions, researchers from Aalto University in Finland mapped where on the body people say they feel these emotions.  In a study published at the end of last year, over 700 participants from around the world viewed emotionally charged words, movies, short stories, or facial expressions online, and colored blank computer-generated human silhouettes in places where they felt "increasing activity" (the warmer colors above) or "decreasing activity" (the blue shades).
Brazil's president, Dilma Rousseff, yesterday tweeted, "Like many Brazilians, I am very, very sad with the defeat." People in the study depicted sadness as slightly increased activity in the chest and head, but reduced in their limbs.
Meanwhile, others around the country likely had intense sensations in their chests, throats and heads, agreeing with the front of Belo Horizonte's newspaper which simply said, "SHAME".
With the other semifinal match still deadlocked at 0-0 as of this writing, just where Argentine or Dutch fans will be feeling the result is still up for debate.