The Steven Soderbergh-helmed The Knick is the latest and most ambitious effort in Cinemax's attempt to rebrand itself as a channel with original programming up to par with HBO. It stars Clive Owen as a doctor at New York's Knickerbocker Hospital around the turn of the twentieth century—the Downton Abbey-meets-ER premise, coupled with the prominence of its principal filmmaker and actor, could make it Cinemax's flagship show.
The Knick had a chance to be on HBO (and thus receive oodles of buzz) but Soderbergh says he preferred that it air on the premium cable titan's less-distinguished sister channel. "I'd rather be the big kid at a really small school," he told Esquire.
Time Warner and HBO executives are hoping The Knick will be similar to what House of Cards became for Netflix–a critically successful series that anchors the network's slate of original programming. Cinemax's previous original series have had varying degrees of success, but the network has yet to break through with a truly compelling and zeitgeist-tapping, water cooler show.
If they succeed, Soderbergh's small school might not stay that way for long.
Cinemax is widely known as the premium cable network with the best selection of late night soft-core porn. But in 2011, it aired its first original dramatic series, Strike Back, and added another in 2012 with Hunted. Its third and most successful show, Banshee, garnered 2.7 million gross viewers for its second season and was renewed for a third season in January.
Cinemax is growing quickly, even before The Knick is set to premiere August 8. As of March, it had a domestic subscription base of 14.45 million, a 2.5% increase over the last three years. While HBO's 29.475 million US subscription base is more than twice as big, it increased only 0.6% over that same period.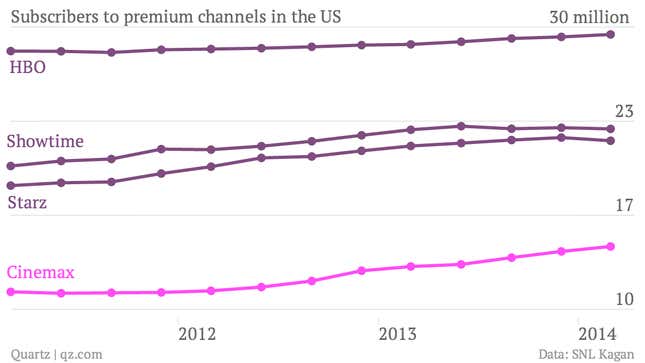 If Cinemax is trying to rebrand itself, the cable companies are not catching on quite yet. HBO and Cinemax are often bundled together in cable packages (but not always). Verizon FiOS advertises HBO as "America's #1 premium network featuring some of today's most original programming," while it dubs Cinemax as merely the "premium movie destination."
Jeffrey Bewkes, chief executive of Time Warner (which owns both channels), called Cinemax an "underappreciated asset" in a February earnings call for Q3 2014. "We think there's an opportunity to make Cinemax, with all of that reach and viewership, stronger," he said. "So we are going to invest in original programming. It's quite economical."
Soderbergh is directing all 10 episodes of the first season of The Knick, just as Cary Fukunaga did for HBO's wildly successful True Detective. Time Warner executives would love for Cinemax to fully shed its "Skinemax" moniker and achieve the distinction HBO already claims as a cable outlet that "stands for good shit."