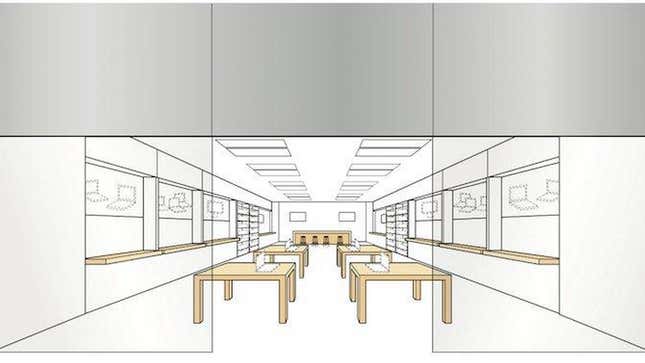 Apple won a legal victory yesterday when the European Court of Justice ruled it could trademark the layout of its stores, just as it has in the US.
But how does that work? Quartz headquarters basically consists of long white tables covered in Apple products—are we infringing? It turns out we are not, mostly because the legal standard in question—whether a consumer could reasonably mistake our office for an Apple store—isn't going to be met. But more importantly, Apple's US trademark, officially granted last year, is the result of a nearly three-year process of refinement to ensure that it wouldn't protect functional items (i.e., you can't trademark tables in your store) and that, altogether, it comprises a unique identity. Here's exactly how the trademarked layout pictured above is described, in rather excruciating detail:
The store features a clear glass storefront surrounded by a paneled facade consisting of large, rectangular horizontal panels over the top of the glass front, and two narrower panels stacked on either side of the storefront. Within the store, rectangular recessed lighting units traverse the length of the store's ceiling. There are cantilevered shelves below recessed display spaces along the side walls, and rectangular tables arranged in a line in the middle of the store parallel to the walls and extending from the storefront to the back of the store. There is multi-tiered shelving along the side walls, and a oblong table with stools located at the back of the store, set below video screens flush mounted on the back wall.
So, don't make your store look like that. The trademark effort was reportedly spurred by copycat competitors seeking to emulate the Steve Jobs-inspired minimalism (and massive business success) of Apple's retail store. Alleged store copycat Microsoft, by the way, has its own  trademark on its not-at-all-inspired-by-Apple retail stores: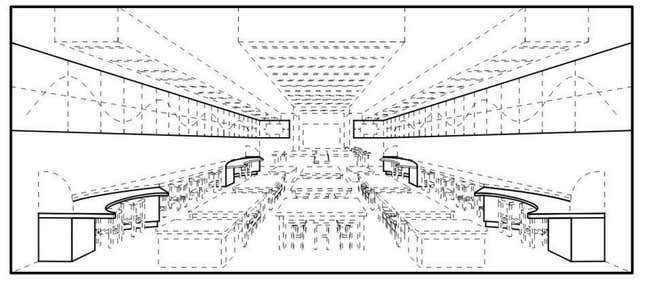 Of course, it isn't just dueling technology giants trademarking their retail layouts. The term of art for this kind of intellectual property protection is "trade dress," and it has long been a staple of the retail world. Many companies, particularly franchises reliant on a consistent brand value in many locations that don't want copycats taking advantage of their reputations, have obtained similar protections. There are fast-food chains like Potbelly Sandwiches ("a multi-level counter structure, a built-in glass front drink cooler, cubbyhole-style shelving, banner stanchions with chains/ropes and tile behind serving area")…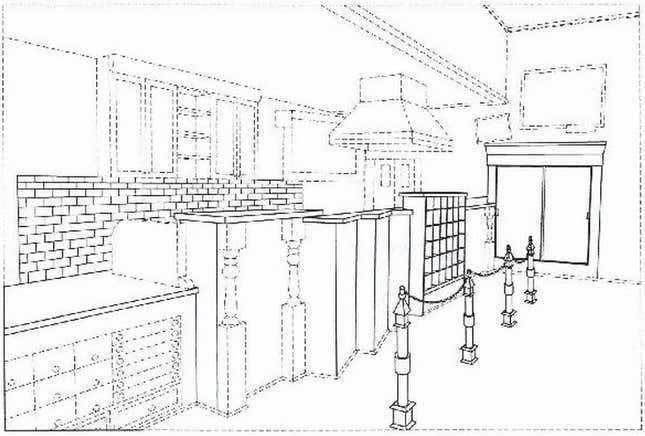 …and Chipotle ("PORCELAIN KEYLESS BULB SOCKETS SUSPENDED FROM THE END OF ELECTRICAL CONDUIT PENDANTS").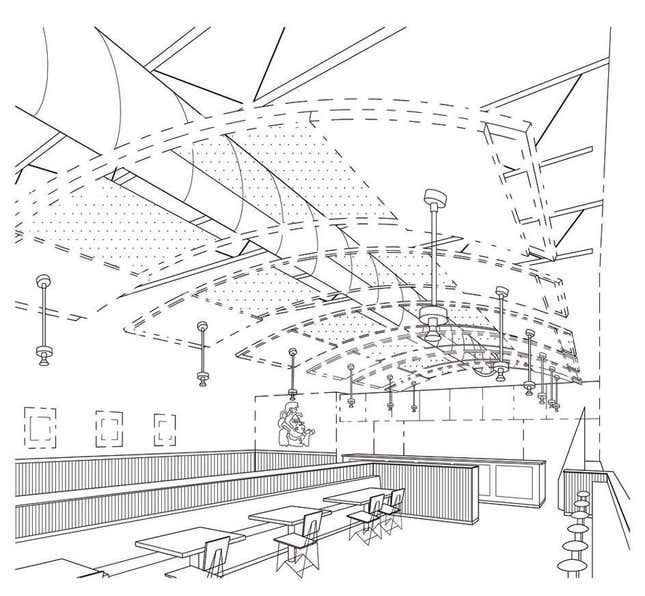 There are drug stores, like Walgreens ("a distinctive arrangement of a pharmacist's desk and a refill desk with wide vertical faces above the desks")…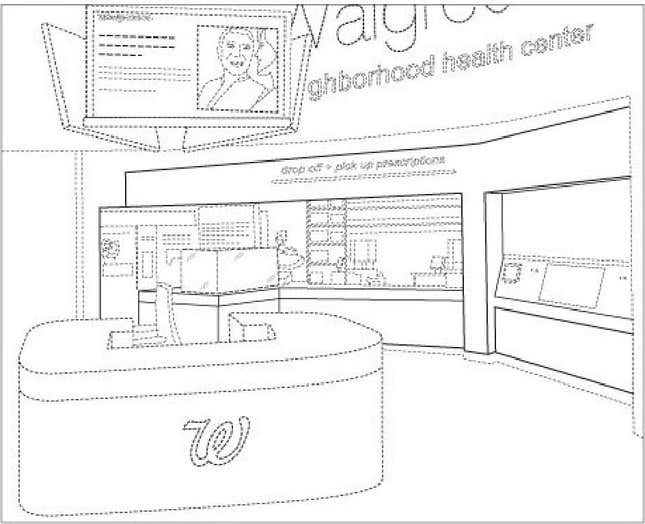 …And of course gas stations like Shell ("a gas station canopy in yellow with a red strip along the bottom of the canopy")…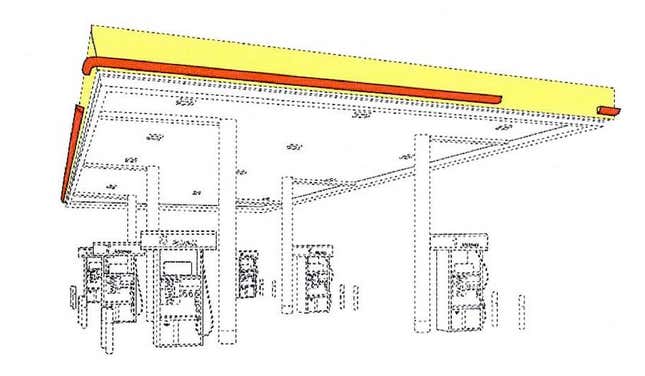 … and Citgo ("The colors appear in the mark from top to bottom in the 'quadband' as follows: red, dark orange, orange and blue.")

Famous buildings also get the trademark treatment, like Madison Square Garden, New York City's iconic arena ("a marquee with the words MADISON SQUARE GARDEN on the top of the marquee and also at the bottom of the marquee").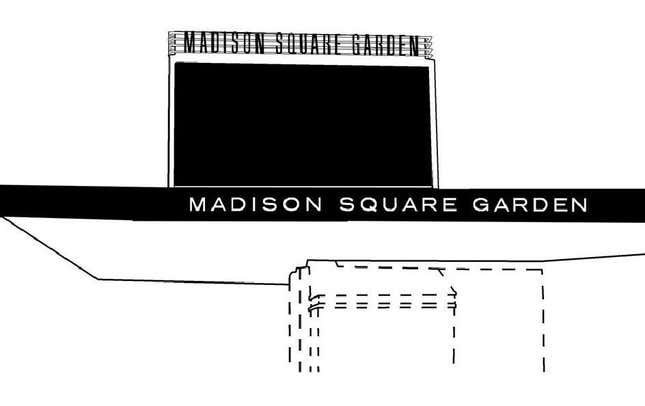 But my favorite retail store trademark found during a perusal of the US registry is also in Apple's name ("a retail store comprised of a cube-shaped building constructed almost exclusively of transparent glass").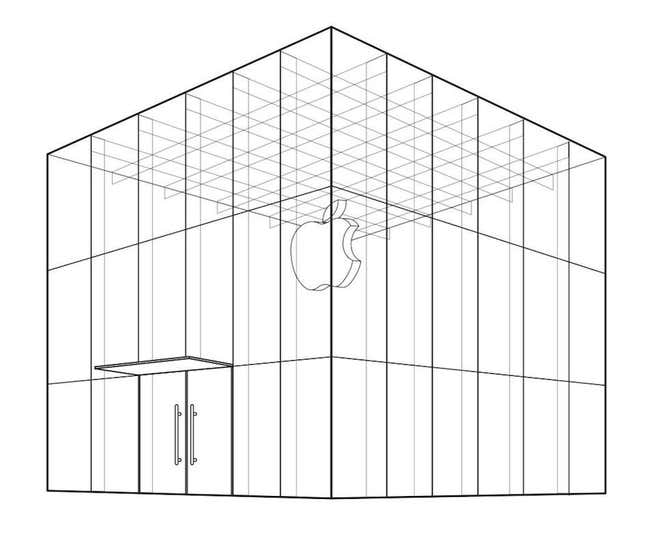 So the next time you want to build a store entirely out of transparent glass, remember: No cubes.