European traders' screens were a sea of red today.
How much red? This much red:

The biggest shock came from Portugal, where the parent company of Banco Espírito Santo, one of the country's largest banks, is teetering. Investors aren't sure whether the problems at cash-strapped Espirito Santo International, which owns a chunk of the bank via a complex network of holding companies (paywall), will affect the lender.
Banco Espírito Santo's shares fell by more than 17% before Portuguese authorities suspended their trading in the afternoon, pending clarification of the bank's financial position. This dragged down Portugal's broader market with it, making it the worst performer in the world today.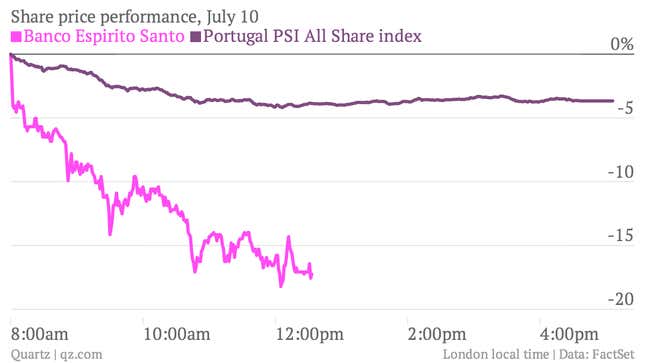 Memories of the darkest days of the euro zone debt crisis remain fresh, and fearing the dreaded "contagion" that marked those trying times, investors thought twice about a planned bond issue from Greece. The bond was priced below earlier guidance and raised only about half as much as advertised earlier in the week. Some corporate borrowers in Spain postponed planned debt sales today due to the market turbulence.
Although well down from the peak of the crisis, benchmark government yields for Greece and other members of the euro zone's "periphery" jumped on the jitters.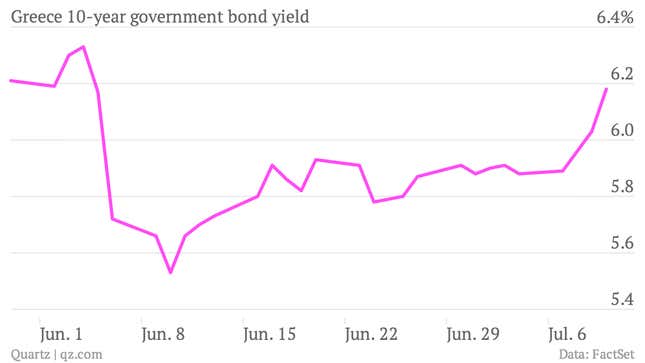 Earlier in the day, traders didn't like what they saw from France and Italy, which both published unexpectedly weak industrial production figures. France blamed the drop on workers taking too many four-day weekends.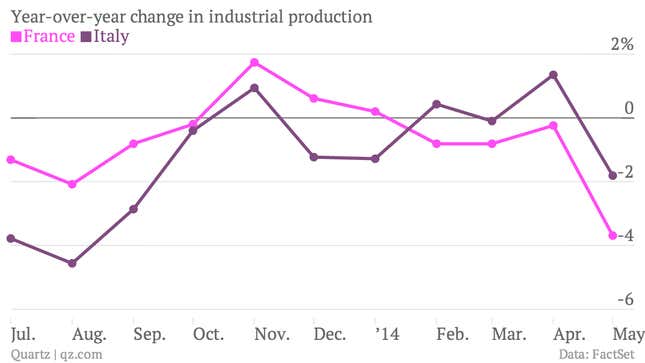 Meanwhile a columnist in one of Ireland's largest newspapers debated whether the country should declare a state of emergency. This, thankfully, had nothing to do with the turmoil spreading across the financial markets.
Dublin has been abuzz this week with the news that the American country crooner Garth Brooks cancelled five sold-out shows due to disagreements over city planning restrictions. Even the prime minister weighed in, estimating that the loss of the shows could deprive the city of €250 million ($340 million) in revenue.
Bad news for the city, for sure, but that hypothetical financial hit still pales in comparison with the vast amounts of money destroyed by the markets elsewhere in Europe today.