People might be using lots of devices at once, but around the world they're staying loyal to their TV, checking in every day. That's according to a report that consultancy TNS released last week. They surveyed more than 55,000 internet users in the 50 countries where TNS has a presence.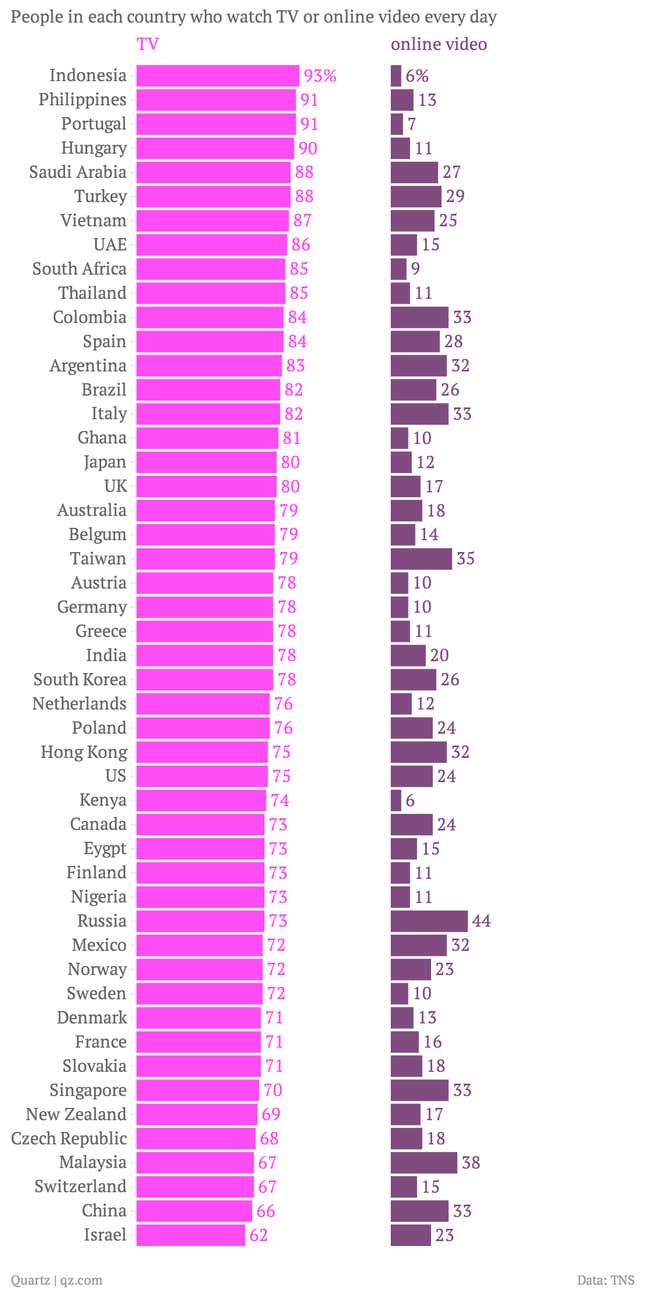 It should be noted that TNS defines "TV" as content that's delivered via television networks or cable, and not as the physical machine known as the television. Content accessed via PC, mobile, tablet and set-top boxes on television sets are counted as "online video." It should also be noted that this was a survey of internet users, not of everyone in these countries, and that the respondents had an average of four devices each.
Russia had the highest viewership of online video—44 percent of the country watches every day. That makes sense, given that it has the largest internet market in Europe, covering more than 66 million people and boasting a $50-million video-on-demand market, led by the Russian on-demand provider ivi.ru.
In Indonesia, meanwhile, advertisers have been jostling to get a slice of a huge TV viewership (nine out of 10 people watch TV every single day) and a growing middle class by introducing pay TV subscription services. The three most popular national broadcast channels in 2011 provided a variety of soap operas and comedy.
Viewers in the UAE, also pretty high up the list of TV faithfuls, seem to have an ear for reality singing—the leading shows last year were Arabs Got Talent, the Arabic version of The Voice, and Arab Idol.