Huge numbers of Americans and others in the Western world have moved away from low-fat and sugar-free diets, and instead are going bonkers for gluten-free. While some delight in calling this a fad or a hoax, gluten-free sections are taking over supermarkets, where the sales of gluten-free products increased 16.4% from 2013, making it a $23.3-billion industry (paywall). But the international gorging on gluten-free foods has caused food supply problems in the regions that produce the ancient South American seed quinoa.
The collision of the superfood and gluten-free trends caused a perfect storm of demand for the low-carb, high-protein seed. But the worldwide craze has sent prices and demand soaring so high that the Bolivians and Peruvians living in urban areas can no longer afford it. Additionally, while harvesters reap its economic benefits and sell their entire crop to meet international demand, they are replacing the quinoa they used to eat with processed noodles, rice and sugary drinks.
Waiting in line behind the quinoa craze are several other ancient grains that could become the next "it" foodstuff. But that also means those crops could be rocked by skyrocketing demand from health nuts in Western countries.
Teff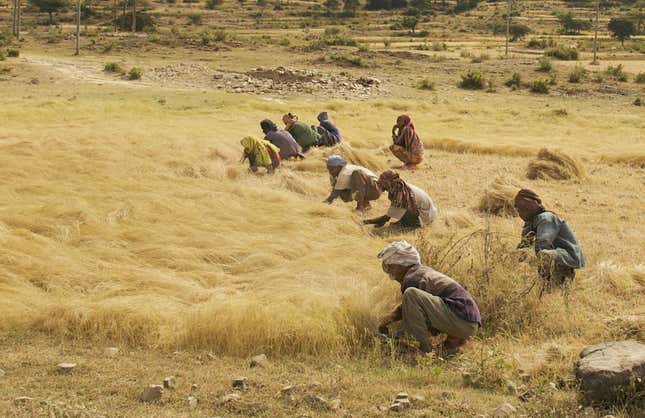 Teff, another gluten-free superfood, are highly nutritious tiny seeds grown in Ethiopia. The seeds are used in injera, the spongy flatbread that is a staple in an Ethiopians' diet. Ethiopia remains one of the world's poorest countries, with chronic malnutrition, so it is unfortunate that a grain so nutritious—it's high in iron, protein, fiber, calcium, you name it—isn't helping to nourish the population. But high global demand has made the price too expensive for the country's poor, and has driven the government to ban exports of the raw grain until it can supply enough for locals to enjoy. Until that happens, gluten-free foodies can still buy the grain, which is often ground to a flour commonly substituted for wheat flour, from US suppliers; but that won't help East Africa's precarious food security situation.
Fonio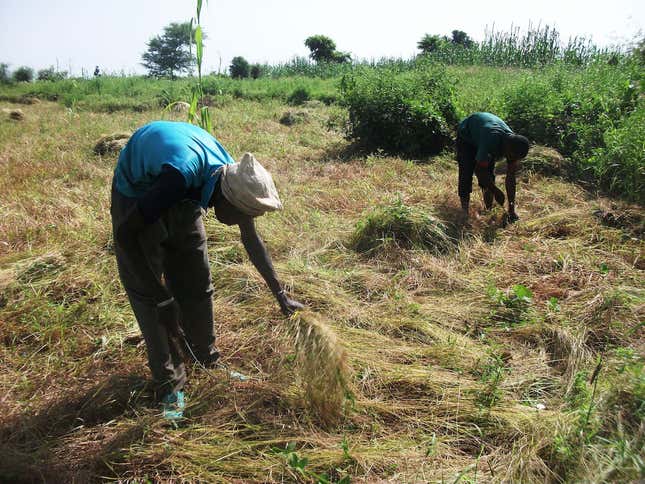 Fonio, another ancient African grain, is a staple crop in West Africa, and the continent's oldest protein-rich cereal. The sustainable grain is a favorite in salads, stews, porridges and can also be ground into flour. It has the potential to be beneficial to developing West African nations because it can be grown in droughts and needs no fertilizers. While local groups are trying to expand the market in sub-Saharan Africa, the threat of a Western health craze looms, which would, again, price locals out of the market and limit the crop's impact on the region.
Amaranth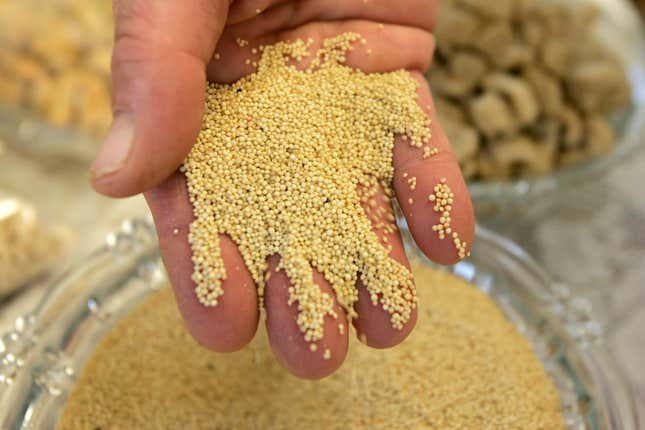 Once as popular as corn in Mexico, Amaranth's recent revival has been touted as part of the solution to Mexico's obesity problem. Native to Oaxaca, amaranth is a hardy weed that produces high-protein, high-fiber, gluten-free seeds, as well as tasty leaves. It can be used as a cereal, as a rice or pasta substitute, in pudding or as a protein-packed popped snack. But with sales already soaring, international consumers could gobble up one of Mexico's best routes to healthier diets for its citizens. As a result, farmers have held off on exports and are focusing on local consumption, for now.